Jurassic World: Dominion Dominates Fandom Wikis - The Loop
Play Sound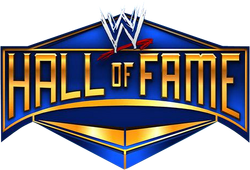 Class of 1993 (Posthumous)

Andre the Giant (May 19, 1946 - January 27, 1993) was a professional wrestler and actor, born André René Roussimoff in Coulommiers, France. He was at least 6'10" tall, and was usually billed at over 7' tall. His great size was a result of excessive growth hormone, a condition known as pituitary gigantism, and led to him being dubbed "The Eighth Wonder of the World".
In the World Wrestling Federation (WWF), Roussimoff is a one-time WWF Champion and a one-time WWF World Tag Team Champion. In 1993, he was the first inductee into the WWF Hall of Fame.
Professional wrestling career
[
]
On March 26, 1973, André debuted in the World Wide Wrestling Federation (later World Wrestling Federation) as a fan favorite, defeating Buddy Wolfe in New York's Madison Square Garden.
In 1980, he feuded with Hulk Hogan, wrestling him at Shea Stadium's Showdown at Shea and in Pennsylvania. The feud continued in Japan in 1982 and 1983.
One of André's feuds pitted him against "the Mongolian Giant" Killer Khan. According to the storyline, Khan had snapped André's ankle during a match on May 2, 1981, in Rochester, New York by leaping off the top rope and crashing down upon it with his knee-drop. The two battled on July 20, 1981 at Madison Square Garden in a match that resulted in a double disqualification. Their feud continued through the summer and fall as fans filled arenas up and down the east coast to witness their matches. On November 14, 1981 at the Philadelphia Spectrum, the feud culminated when André decisively defeated Khan in what was billed as a "Mongolian Stretcher Match", in which the loser must be taken to the dressing room on a stretcher.
Another feud involved a man who considered himself to be "the true giant" of wrestling: Big John Studd. Throughout the early to mid-1980s, André and Studd fought all over the world, battling to try to determine who the real giant of wrestling was. In December 1984, Studd took the feud to a new level, when he and partner Ken Patera knocked out André during a televised tag team match and proceeded to cut off André's hair. After gaining revenge on Patera, André met Studd in a "Body Slam Challenge" at the first WrestleMania, held March 31, 1985 at Madison Square Garden in New York City. André slammed Studd to win the match and collect the $15,000 prize, then proceeded to throw cash to the fans before having the bag stolen from him by Studd's manager, Bobby "The Brain" Heenan.
The following year, at WrestleMania 2 on April 7, 1986, André continued to display his dominance by winning a twenty-man battle royal which featured top NFL stars and wrestlers. André last eliminated Bret Hart to win the contest.
After WrestleMania 2, André continued his feud with Studd and King Kong Bundy. He then would take a leave of absence for the next couple of months.
Later in the summer of 1986, upon Andre's return, he began wearing a mask and competing as the "Giant Machine" in a stable known as The Machines. (Big Machine and Super Machine were the other members.) The WWF's television announcers sold the Machines and claimed not to know the identities of the wrestlers, even though it was obvious to fans and the television audience that it was André competing as the Giant Machine. Heenan, Studd and Bundy complained to Tunney, who eventually told Heenan that if it could be proven that André and the Giant Machine were the same person, André would be fired. André thwarted Heenan, Studd and Bundy at every turn. Then, in the fall of 1986, the Giant Machine "disappeared," and André was reinstated.
André agreed to turn heel in early 1987 to be the counter to the biggest "babyface" in professional wrestling at that time, Hulk Hogan. On an edition of Piper's Pit in January 1987, Hogan was presented a trophy for being the WWF Champion for three years; André came out to congratulate him. On the following week's Piper's Pit, André was presented a slightly smaller trophy for being "the only undefeated wrestler in wrestling history." Although André had suffered a handful of countout and disqualification losses in WWF, he had never been pinned or forced to submit in a WWF ring. Hogan came out to congratulate André and ended up being the focal point of the interview. A visibly "annoyed" André walked out in the midst of Hogan's speech. A "discussion" between André and Hogan was scheduled, and on a Piper's Pit that aired February 7, 1987, the two met. Hogan was introduced first, followed by André. André was led by longtime rival Bobby Heenan. Speaking on behalf of his new protégé, Heenan accused Hogan of using André. Hogan tried to reason with André but his pleas were ignored as he challenged Hogan to a match for the WWF Championship at WrestleMania III before ripping the t-shirt and crucifix from Hogan.
Hogan won the match after body slamming (later on dubbed "the bodyslam heard around the world") André, followed by Hogan's running leg drop finisher. The feud between André and Hogan simmered during the summer of 1987, even as Andre's health declined. The feud would begin heating up again when each wrestler was named the captain of rival teams at the inaugural Survivor Series event. André's team won the main event after André pinned Bam Bam Bigelow.
In the meantime, "The Million Dollar Man" Ted DiBiase failed to persuade Hogan to sell him the WWF Championship. After failing to defeat Hogan in a subsequent series of matches, DiBiase turned to André to win it for him. Acting as his hired gun, André won the WWF title from Hogan (his first title) on February 5, 1988 in a match where it was later revealed appointed referee Dave Hebner was "detained backstage", and a replacement (whom Hogan afterwards initially accused of having been paid by DiBiase to get plastic surgery to look like Dave, but in fact was revealed to have been his 'evil' twin brother Earl Hebner), made a three count on Hogan while his shoulders were off the mat. After winning, André "sold" the title to DiBiase; the transaction was declared invalid by then-WWF President Jack Tunney and the title was vacated. This was shown on WWF's NBC program The Main Event. At WrestleMania IV, André and Hulk Hogan fought to a double disqualification in a WWF title tournament match (with the idea in the storyline saying that André was again working on DiBiase's behalf in giving DiBiase a clearer path in the tournament). Afterward, André and Hogan's feud died down after a steel cage match held at WrestleFest on July 31, 1988 in Milwaukee. He and DiBiase also wrestled Hogan and "Macho Man" Randy Savage in the main event of SummerSlam; the DiBiase–André team lost, despite apparently having referee Jesse "the Body" Ventura on their side.
Concurrent with the developing feud with the Mega Powers, André was placed in a feud with Jim Duggan, which began after Duggan knocked out André with his two-by-four during a television taping. Despite Duggan's popularity with fans, André regularly got the upper hand in the feud.
André's next major feud was against Jake Roberts. In this storyline, it was said André was deathly afraid of snakes, something Roberts exposed on Saturday Night's Main Event when he threw his snake, Damien, on the frightened André; as a result, André suffered a kayfabe mild heart attack and vowed revenge. During the next few weeks, Roberts frequently walked to ringside during André's matches, causing him to run from the ring in fright (since he knew what was inside the bag). Throughout their feud (which culminated at WrestleMania V), Roberts constantly used Damien to gain a psychological edge over the much larger and stronger André.
In 1989, André and the returning Big John Studd briefly reprised their feud, this time with Studd as a face and André as the heel. During the late summer and fall of 1989, André engaged in a brief feud, almost entirely consisting of house shows (non-televised events), with then-Intercontinental champion The Ultimate Warrior. The younger Warrior, WWF's rising star, regularly squashed the aging André in an attempt to showcase his star quality and promote him as the "next big thing".
In the fall of 1989, André was joined with fellow Heenan Family member Haku to form a new tag team called The Colossal Connection, in part to fill a void left by the departure of Tully Blanchard and Arn Anderson (The Brain Busters, who were also members of Heenan's stable) from the WWF, and also to continue to keep the aging André in the main event spotlight. The Colossal Connection immediately targeted WWF Tag Team Champions Demolition (who had recently won the belts from the Brain Busters). At a television taping on December 13, 1989, the Colossal Connection defeated Demolition to win the titles. André and Haku successfully defended their titles, mostly against Demolition, until WrestleMania VI on April 1, 1990, when Demolition took advantage of a mistimed move by the champions to regain the belts. After the match, a furious Heenan blamed André for the title loss and after shouting at him slapped him in the face; an angry André responded with a slap of his own that sent Heenan staggering from the ring. André also caught Haku's kick attempt, sending him reeling from the ring as well, prompting loud cheers for André for the first time in three years. André went into the match as a heel, but left as a face.
André continued to make appearances in the WWF throughout 1990 and 1991. He came to the aid of The Big Boss Man in his WrestleMania VII match against Mr. Perfect.
At one point he was advertised to enter the 1991 Royal Rumble. His last major WWF storyline following WrestleMania VII had the major heel managers (Bobby Heenan, Sensational Sherri, Slick, and Mr. Fuji) trying to recruit André one-by-one, only to be turned down in various humiliating ways (i.e. Heenan had his hand crushed, Sherri received a spanking, Slick got locked in the trunk of the car he was offering to André and Mr Fuji got a pie in his face). Finally, Jimmy Hart appeared live on WWF Superstars to announce that he successfully signed André to tag-team with Earthquake. However, when asked to confirm by Gene Okerlund, André denied the claims. This cemented André's face turn. This led to Earthquake attacking André from behind (injuring his knee). Jimmy Hart would later get revenge for the humiliation by secretly signing Tugboat and forming The Natural Disasters. This led to André's final major WWF appearance at SummerSlam '91, where he seconded The Bushwhackers in their match against the Disasters. Andre was on crutches at ringside, when the Disasters won the match they set out to attack Andre, but the Legion of Doom made their way to ringside and prevented this, the Disasters left the ringside area as they were outnumbered by the Legion of Doom, the Bushwhackers and Andre who struck the Disasters with a crutch as they left.
André the Giant died in his sleep due to congestive heart failure on the night of January 27, 1993.
In 1993 when the then-World Wrestling Federation created the WWF Hall of Fame, André the Giant was the inaugural inductee (and the only 1993 inductee).
External links
[
]