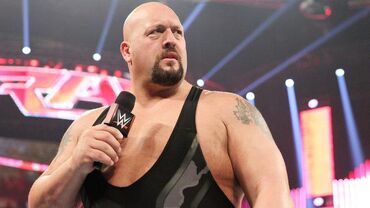 Paul Wight signed a ten-year contract with the World Wrestling Federation on February 9, 1999, debuting as a villainous member of Vince McMahon's stable, The Corporation, at St. Valentine's Day Massacre: In Your House. During the McMahon versus Steve Austin cage match, Wight tore through the canvas from underneath the ring and attacked Austin. However, Wight cost McMahon the match when he threw Austin into the side of the cage and the cage broke, spilling Austin outside to the floor and granting him the victory. Wight subsequently served as McMahon's enforcer.
Wight performed as "Big Nasty" Paul Wight for several weeks before being renamed "Big Show" Paul Wight. He then gradually dropped his real name, eventually being referred to simply as (The) Big Show. McMahon wanted to ensure that Corporation member The Rock would retain his title at WrestleMania, so he had Wight wrestle Mankind at WrestleMania XV for the right to referee the main event. Wight incapacitated Mankind, but got disqualified in the process, meaning that he could not be referee. Mankind won the right to be the official but was taken to a hospital following the match with Wight (although he eventually returned during the Championship match). After a furious McMahon slapped Wight, he punched McMahon. Wight concluded his feud with Foley in a Boiler Room Brawl before turning face and joining Mankind, Test, and Ken Shamrock in a stable known as The Union who fought against the Corporation, and later against The Corporate Ministry. On the May 10 episode of Monday Night Raw, Show was pitted against The Undertaker's manager Paul Bearer. On the June 7 episode of Raw, Big Show faced The Undertaker for the WWF Championship. Undertaker attempted a clothesline from the top turnbuckle, however Wight caught him and delivered a chokeslam, which sent Undertaker crashing through the ring mat; the referee was forced to stop the match so The Undertaker retained his title. Following the match Bradshaw, Faarooq, and Mideon all ran down to attack Big Show and were all subsequently chokeslammed as well. Big Show and The Undertaker later formed an unlikely alliance, wrestling against X-Pac and Kane. As a team, Show and The Undertaker won the WWF Tag Team Championship twice. After The Undertaker was sidelined with injuries, Big Show began a feud with the Big Boss Man. After it was announced that Big Show's father was terminally ill with cancer, the Boss Man had one of his crooked police colleagues inform Show that his father has died, and then mocked Show's tearful reaction. Several weeks later, when it was announced Big Show's father had actually died (in reality, Wight's father had died years before), the Boss Man interrupted the ten-bell-toll by reciting an offensive poem. Later, Boss Man invaded the funeral and used a chain to couple the coffin to the hearse, towing the coffin away with a grief-stricken Big Show clinging on to it. Big Show then took on Big Boss Man, Prince Albert, Mideon and Viscera at Survivor Series in a 4-on-1 elimination match. He eventually won the match after Big Boss Man left the match and was counted out. Later that night, Wight took the injured Steve Austin's place in the Triple Threat match for the WWF Championship. In that match, which also featured The Rock, he pinned Triple H to become WWF Champion. At Armageddon 1999, Show defeated Boss Man to retain his WWF Championship, despite interference by Prince Albert.
On the January 3, 2000 episode of Raw, Triple H defeated Show for the WWF Championship. Trying to regain the title, Wight participated in the Royal Rumble match where he antagonized The Rock. The Rock eliminated him to win the Royal Rumble. Wight was convinced that he had won, and eventually produced a video tape that showed The Rock's feet striking the ground first. He was then given a match with The Rock at No Way Out, with the WrestleMania title shot on the line. Wight defeated The Rock when Shane McMahon interfered, knocking The Rock out with a chair shot. Rock was desperate to reclaim his title shot, and eventually agreed to a match with Wight on the March 13 episode of Raw – if he won, the WrestleMania title match would become a Triple Threat match, and if he lost, he would retire from the WWF. Shane McMahon, now actively supporting Wight's bid to become champion, appointed himself as the special guest referee. However, The Rock triumphed when Vince McMahon assaulted Shane and donned the referee shirt, personally making the three count following a Rock Bottom.
On the March 20 episode of Raw, Triple H defended the title against The Rock and Wight on the condition that the match would not take place at WrestleMania, pinning Wight. Linda McMahon stated this match would not occur at WrestleMania as Triple H would defend the title there in a Fatal Four-Way Elimination match, with Mick Foley as the fourth man. Wight was the first man eliminated from the match at WrestleMania 2000 after the other three competitors worked together against him.
After WrestleMania, Big Show took on a comical gimmick where he began mimicking other wrestlers, lampooning Rikishi as Showkishi, The Berzerker as Shonan the Barbarian, and Val Venis as The Big Showbowski. He defeated Kurt Angle at Backlash dressed like his friend and role model Hulk Hogan as the Showster, complete with skullcap/wig and yellow tights. Show began feuding with Shane McMahon after Shane voiced his disapproval of Big Show's antics. At Judgment Day 2000, Shane defeated Wight in a Falls Count Anywhere match following interference from Big Boss Man, Bull Buchanan, Test, and Albert. Wight returned two months later, apparently intending to gain revenge on Shane. Instead, he attacked The Undertaker thus siding with Shane once more, forming a short-lived stable known as "The Conspiracy" with Shane, Chris Benoit, Kurt Angle, and Edge and Christian. After The Undertaker threw Show off a stage through a table, he was removed from WWF television for the remainder of the year.
Show returned at the 2001 Royal Rumble, but was eliminated by The Rock. Angered by his quick elimination, Wight proceeded to chokeslam The Rock through the announcer's table before leaving the arena. He then began competing for the WWF Hardcore Championship, which he lost to Kane in a Triple Threat match that also included Raven at WrestleMania X-Seven.
Throughout The Invasion, Big Show remained loyal to the WWF. He faced Shane McMahon, the on-screen owner of WCW, in a Last Man Standing match at Backlash and was defeated following interference from Test. Show was also part of the victorious Team WWF at Survivor Series, though he was the first man eliminated.
Show then was drafted by Ric Flair (representing the Raw brand) in the 2002 draft. He then turned on Steve Austin during a tag team match. At Judgment Day, Big Show and Ric Flair were defeated by Austin in a Handicap match. Wight once again joined the New World Order, but the stable disbanded after Kevin Nash was injured. After the nWo disbanded, Show achieved little success on Raw after losing matches against Jeff Hardy, Booker T, and the Dudley Boyz.
In late 2002, Big Show was traded to SmackDown!, immediately challenging Brock Lesnar for the WWE Championship. During this time, Big Show adopted a new attire, donning black jeans and taking on a new hairstyle and facial hair. Big Show became a two-time WWE Champion defeating Brock Lesnar at Survivor Series. He lost the title to Kurt Angle a month later at Armageddon. At the Royal Rumble, Big Show lost a Royal Rumble Qualifying Match to Lesnar. He then began feuding with The Undertaker, after Big Show threw him off the stage, injuring his neck, leading to Big Show and his partner A-Train losing to The Undertaker at WrestleMania XIX. He renewed his feud with Lesnar, wrestling him four times for the WWE title (including a Stretcher match at Judgment Day) but was unsuccessful in his attempt to regain the title. On Smackdown Lesnar superplexed Big Show off the ropes and the ring imploded, two ring posts moved and three rows of ropes came down. The referee called for EMTs, medics,Trainers, and even more referees. This kept the title in Lesnar's hands and both went to the hospital. On the June 26, 2003 episode of SmackDown! Big Show, Shelton Benjamin, and Charlie Haas defeated Mr. America (a disguised Hulk Hogan), Brock Lesnar, and Kurt Angle in a six-man tag team match when Show pinned Mr. America. This was Hulk Hogan's last appearance as Mr. America. For several months afterwards, WWE hyped up Big Show as the man who retired Hogan. At No Mercy, Big Show defeated Eddie Guerrero for the WWE United States Championship and then formed an alliance with the then WWE Champion Brock Lesnar.
Big Show abandoned a departing Lesnar immediately before WrestleMania XX. At the pay-per-view, Big Show lost the United States Championship to John Cena. On the April 15, 2004 episode of SmackDown!, Big Show promised to quit if he failed to defeat Eddie Guerrero that night. He lost to Guerrero (Guerrero had snuck a wrench in the back of Big Show's boot, which got Big Show disqualified), and, believing that Torrie Wilson had laughed at him for losing, upended her car and threatened to throw her off a ledge. Then General Manager of SmackDown!, Kurt Angle ascended the ledge to try to talk some reason into Big Show, but he chokeslammed Angle off the ledge, kayfabe concussing him and breaking his leg, as well as causing the back of Angle's head to bleed. After the show, Big Show was neither seen nor heard from on WWE television for months.
In mid-2004, Big Show was reinstated by new General Manager Theodore Long, as he interfered during a Lumberjack match between Eddie Guerrero and Kurt Angle. Big Show had a choice to face either Guerrero or Angle at No Mercy, choosing to fight Angle. Big Show defeated Angle at the event. In the weeks before the match, He claimed to have "lost his dignity" when Angle tranquilized him in the middle of the ring using a dart gun and shaved his head. At No Way Out 2005 he fought Bradshaw for the WWE Championship in the first ever Barbed Wire Cage match. He choke slammed Bradshaw through the ring and busted the lock on the door. But Bradshaw had crawled from under the canvas and won. Show beat down Bradshaw and The Cabinet interfered and beat Show down, Batista interfered and beat down The Cabinet, and John Cena interfered and beat down Bradshaw.
On April 3, 2005 at WrestleMania 21, Big Show faced Sumo Grand Champion Akebono in a worked sumo match; the match was added to the show to attract a strong pay-per-view audience in Japan, where Akebono is considered a sporting legend. In the weeks preceding the match, Big Show pushed over a jeep driven to the ring by Luther Reigns to show that he was capable of moving the marginally heavier Akebono. Big Show lost to Akebono at WrestleMania 21. Big Show subsequently feuded with Carlito Caribbean Cool and his bodyguard, Matt Morgan. preventing him from participating in a scheduled Six-Man Elimination match for the SmackDown! Championship. He successfully pinned Gene Snitsky in a Tag Team match, which turned into a singles match when both men's partners brawled backstage. After squashing his scheduled opponents for several weeks, Wight returned to his rivalry with Snitsky. On August 22, he foiled Snitsky's harassment of backstage interviewer Maria. On August 29, Snitsky hit Big Show with the ring bell immediately after Big Show had won a match. As a result, Big Show and Snitsky were placed in a match at Unforgiven, in which Big Show defeated Snitsky. On September 26, Big Show defeated Snitsky again in a Street Fight.
On October 17, Big Show defeated Edge and was thus entered in an online opinion poll, with the winner of the poll facing John Cena and Kurt Angle in a Triple Threat match for the WWE Championship at Taboo Tuesday 2005. The poll was won by Shawn Michaels, meaning that the other two options would wrestle for the World Tag Team Championships. Big Show teamed with Kane to defeat Lance Cade and Trevor Murdoch for the Tag Team Championships.
In the weeks preceding Survivor Series 2005, Big Show became involved in the rivalry between the Raw and SmackDown! brands. Big Show and Kane invaded the November 11 episode of SmackDown! and, along with Edge, attacked Batista (inadvertently injuring him in the process). On the November 14 episode of Raw, Big Show and Kane defeated SmackDown! wrestlers and reigning WWE Tag Team Champions MNM in an inter-brand, non-title match. On November 21, Big Show and Kane "injured" Batista by delivering a double chokeslam onto the windshield of a car. At Survivor Series, Show, Kane, Carlito, Chris Masters, and team captain Shawn Michaels represented Raw in a match with Team SmackDown!: JBL, Rey Mysterio, Bobby Lashley, Randy Orton, and Batista. Team SmackDown! won the match, with Orton being the sole survivor. On the November 29 episode of SmackDown!, Big Show wrestled Rey Mysterio in an inter-brand promotional match, however, Kane interfered, resulting in the match being declared a no-contest. Following the match, Big Show and Kane attacked Mysterio until The Undertaker chased them from the ring. Big Show and Kane returned to SmackDown! on December 2, defeating Mysterio and JBL after JBL abandoned the match, claiming the referee had poked him in the eye. Following the match, Big Show and Kane's attempt to assault Mysterio was once again foiled, this time when Batista ran in to see them off. As a result, on the December 16 episode of SmackDown!, Big Show and Kane were booked to face Batista and Mysterio, the Smackdown Tag Team Champions, at Armageddon 2005. They won the match, which pitted the Tag Team Champions from each brand against one another.
On the December 12 episode of Raw, Big Show took part in a qualifying match for a shot at the WWE Championship in an Elimination Chamber match at New Year's Revolution 2006. Big Show lost to his opponent, Shawn Michaels, by disqualification after Triple H hit Michaels with a steel chair, intentionally costing Big Show the match and the title shot. In retaliation, Wight cost Triple H his qualifying match with Kane later that evening. On the December 26 episode of Raw, during the contract-signing for the announced match between Big Show and Triple H at New Year's Revolution, Triple H struck Big Show in the hand that Big Show apparently favors when using the chokeslam with his sledgehammer. The following week, Big Show attacked Triple H while wearing a cast on his hand, using the padding provided by the cast to punch a hole in a chair held by Triple H, destroying a monitor from the announcers' table that Triple H intended to throw at him, and chasing Triple H away from the ring. At New Year's Revolution, Triple H defeated Wight after striking him in the head with his sledgehammer.
Subsequently, Big Show was one of eight participants in the 2006 Road to WrestleMania Tournament, the winner of which would receive a shot at the WWE Championship. On the February 13 episode of Raw, Big Show faced Triple H in the tournament semi-finals in a match that ended in a double count-out. As a result, Big Show and Triple H faced Rob Van Dam (the winner of the opposing semi-finals) in a Triple Threat match to determine the winner of the tournament on the February 20 episode of Raw. The match was won by Triple H after he pinned RVD.
In the weeks following the tournament, Big Show and Kane feuded with Chris Masters and Carlito, leading to a World Tag Team Championships title match being scheduled for WrestleMania 22. Wight and Kane defeated Carlito and Masters, marking Big Show's first victory at WrestleMania after suffering six defeats. On the following evening, Big Show and Kane lost the World Tag Team Championships to Spirit Squad members Kenny and Mikey following copious interference from the other members of the Spirit Squad. They faced Spirit Squad members Johnny and Nicky in a rematch one week later, but lost via disqualification after Kane "snapped" and left the ring to attack the other members of the Spirit Squad. The ensuing feud between Kane and Big Show culminated in a match at Backlash 2006 that ended in a ruling of no-contest.
At WWE vs. ECW Head to Head on June 7, Big Show was drafted to the newly debuted ECW brand; he removed his Raw shirt to reveal an ECW shirt during a twenty man battle royal including members of the Raw and SmackDown rosters against members of the ECW roster. Big Show won the match for ECW by eliminating Randy Orton. Big Show then appeared at One Night Stand, attacking Tajiri, Super Crazy, and the Full Blooded Italians after their tag team match.
On the July 4 episode of ECW on Sci Fi, Big Show beat Van Dam to win the ECW World Heavyweight Championship on an ECW show in Philadelphia with the assistance of ECW's General Manager Paul Heyman, who declined to make the three-count for Van Dam after Van Dam hit his finisher Five Star Frog Splash on the Big Show. Heyman then instructed Big Show to chokeslam Van Dam onto a steel chair, before making the three-count. The fans almost rioted when Big Show became the ECW World Champion, throwing drinks and empty cups into the ring, as Heyman and Big Show celebrated.
Over the next several weeks, Wight defeated many other wrestlers from other brands, such as Ric Flair and Kane to retain his championship but lost to Batista and The Undertaker by disqualification. He lost to the Undertaker, however, at The Great American Bash in the first ever Punjabi Prison match; he was a substitute for The Great Khali, who was removed by SmackDown! General Manager Theodore Long and replaced with Big Show as punishment for an attack on The Undertaker shortly before the match. He also had a brief feud with Sabu, whom he defeated at SummerSlam.
At Cyber Sunday he faced John Cena and King Booker in a Champion of Champions match. The fans voted for King Booker's World Heavyweight Championship to be on the line. Booker won the match following interference from Kevin Federline, who was just beginning a feud with Cena at the time. At Survivor Series, Cena wrestled Big Show in a traditional 10-Man Survivor Series Tag Team Match, with Cena and Bobby Lashley leaving as the sole survivors of the match after Cena pinned Big Show to claim the victory due to a double team with Lashley. Big Show then began a feud with Lashley, who left SmackDown! to join the ECW brand to participate in the Extreme Elimination Chamber match at December to Dismember for the ECW Championship. After busting Big Show open by breaking one of the plexiglass pods with his face, Lashley speared and pinned him to claim the ECW Championship. On December 6, 2006 following an unsuccessful rematch, WWE.com announced that Big Show was taking time off from the ring to heal injuries he had sustained on ECW. WWE announced that Wight's WWE contract had expired on February 8, 2007.
A noticeably slimmer Wight returned to WWE at No Way Out, on February 17, stating that he has lost 108 pounds, previously weighing 549 pounds when he took time off from injuries. Wight then attempted to attack Rey Mysterio after his World Heavyweight Championship match with then champion Edge but got into a physical confrontation with boxer Floyd Mayweather, Jr. after Mayweather came from the crowd to defend his friend Rey. The confrontation ended with Mayweather breaking Wight's nose with a punching combination. Big Show was then assigned to the SmackDown brand.
Big Show lost to Mayweather at WrestleMania XXIV via knockout after a shot to the jaw with brass knuckles. Shortly after, Big Show entered a feud with The Great Khali, concluding at Backlash, where Big Show defeated Khali pinning him after executing a chokeslam.
At One Night Stand, Show defeated CM Punk, John Morrison, Chavo Guerrero, and Tommy Dreamer in a Singapore Cane match. During the bout, he received a black eye and deep gash along the eyebrow, which required stitches after John Morrison swung a Singapore cane to his knee, which caused Show to fall with the steps. As he fell, the steps accidentally moved to the right, which hit Show in the eye. The win gave him contention to face Kane and Mark Henry at Night of Champions for the ECW Championship, which Henry won by pinfall.
Big Show sided with Vickie Guerrero in her ongoing feud with The Undertaker by attacking him at Unforgiven, and later interfering in many of Undertaker's matches on SmackDown, most notably against Triple H, Jeff Hardy, Chavo Guerrero, and The Great Khali. He went on to defeat Undertaker by knockout at No Mercy. However, Show lost to him in a fan voted Last Man Standing match at Cyber Sunday and a Casket Match at Survivor Series. Show would then go on to lose a Steel Cage match against The Undertaker on SmackDown, ending the feud. At No Way Out, Show wrestled in the Elimination Chamber for the WWE Championship, but lost after being the third person eliminated by Triple H. In March, it was revealed by John Cena that the Big Show was having secret relations with Vickie Guerrero. At WrestleMania XXV, Show was involved in a Triple Threat match for the World Heavyweight Championship featuring champion Edge and John Cena. Once again, he was unsuccessful as Cena won.
On April 13, Big Show was drafted to the Raw brand as a part of the 2009 WWE Draft. At Backlash, Big Show interfered in a Last Man Standing match for the World Heavyweight Championship between Cena and Edge when he threw Cena into a spotlight, thus resulting in Edge winning the title and Cena being seriously injured. He continued to feud with John Cena, losing to him at Judgment Day by pinfall and at Extreme Rules by submission by Cena's submission known as the STF, before defeating Cena on the June 22 episode of Raw to end the feud.
In the weeks prior to Night of Champions, Big Show constantly attacked U.S. Champion Kofi Kingston and Evan Bourne among others. He would go on to develop a feud with Kingston for the U.S. Title and earn himself a spot in the six-pack challenge at Night of Champions. At the event, Big Show was announced as Chris Jericho's new tag team partner due to Edge needing time off to tend to an injury, thus taking Show out of the six-pack challenge for the U.S. Title. Together, Jeri-Show were able to successfully defend the Unified WWE Tag Team Championship against The Legacy. Jeri-Show would successfully defend their titles against Cryme Tyme at SummerSlam, MVP and Mark Henry at Breaking Point and also Rey Mysterio and Batista at Hell in a Cell. At Bragging Rights, Big Show represented Team Raw, but he betrayed and attacked his team-mates, which led to Team SmackDown winning, so that he could receive an opportunity at the World Heavyweight Championship. Big Show received his title shot at Survivor Series in a triple threat match against The Undertaker and Jericho, but the Undertaker successfully retained his title.
The 140 day reign of Jeri-Show as Unified Tag Team Champions came to an end at the TLC: Tables, Ladders & Chairs pay-per-view at the hands of D-Generation X (DX). As a member of the SmackDown roster, Jericho could only appear on Raw as a champion and so DX intentionally disqualified themselves in a rematch to force Jericho off the show. Eventually the teams had a match with a definitive finish, though DX still won, signalling the end of Jeri-Show.
On the February 8 episode of Raw, Show regained the title from DX with his new tag team partner The Miz in a Triple Threat Tag Team Elimination match, which also included the Straight Edge Society (CM Punk and Luke Gallows). On February 16, he and Miz successfully defended the title against Yoshi Tatsu and Goldust on the final episode of ECW. On the March 1 episode of Raw, Show and Miz defeated DX in their rematch. At WrestleMania XXVI, Show and Miz defeated John Morrison and R-Truth to retain the title again. At Extreme Rules ShoMiz was in a tag team gauntlet match where the tag team that beat ShoMiz would get a tag title match the next night on Raw. ShoMiz managed to beat the first two teams in the gauntlet match, the first team of John Morrison and R-Truth and the second team of MVP and Mark Henry. However, the third team, the Hart Dynasty managed to beat ShoMiz and thus they earned their title shot. On the April 26, 2010 episode of Raw, Show and Miz lost the Unified Tag Team Titles to The Hart Dynasty.
After the title loss, he hit The Miz with a knockout punch and hugged Teddy Long, thus Show turned face for the first time since 2008. Later on in the night as part of the 2010 WWE Draft, Big Show was drafted back to the SmackDown brand.
He returned to the brand on the April 30 episode of SmackDown, and was subsequently named the number one contender for the World Heavyweight Championship, later on in the night he interrupted World Heavyweight Champion Jack Swagger as he was giving his "State of Championship Address" and knocked him out with his signature punch. On the May 7 episode of SmackDown, Big Show sat ringside during the Swagger/Kane main event. After Swagger was disqualified, Show chokeslammed him through the announce table. He would also crash Swagger's achievement celebration and cost his match with Kofi Kingston in the following weeks. Big Show defeated Jack Swagger via disqualification at Over The Limit. On the May 27 episode of Smackdown, General Manager Thedore Long announced that qualifying matches were going to take place that night for the World Heavyweight Championship match at WWE Fatal 4-Way. Long then announced due to Jack Swagger losing his match with Big Show via disqualification at Over the Limit, Big Show qualified automatically, but was unsuccessful in this attempt. At WWE Fatal 4-Way he faced Rey Mysterio, CM Punk and Swagger for the World Heavyweight Title, but Mysterio won the title. The following night, Swagger debuted his new finishing move The Ankle Lock applied the submission move on Big Show, thus injuring his ankle and continuing their feud. Two weeks later on Smackdown, Big Show saved Rey Mysterio, whose ankle was injured by the same move, from Swagger. Later that night, Big Show fought Swagger to a double count-out. Soon he began a feud with CM Punk and his Straight Edge Society confronting him the Friday night before the Money in the Bank event and would unmask Punk revealing his bald head. After failing to win the ladder match for the Money in the Bank contract, he fought the mysterious masked member of the SES also unmasking him revealing Joey Mercury as the masked member. Show's feud with the Straight Edge Society continued after he defeated them in a 3 on 1 Handicap match at SummerSlam and CM Punk at Night of Champions. Big Show was announced as Team SmackDown's captain for Bragging Rights on the October 8 episode of SmackDown. At the event, Big Show was counted out with Sheamus during the match but his team ultimately won with Edge and Rey Mysterio left on the team. He was on Rey Mysterio's team for Survivor Series where he was a survivor along with Mysterio. The following episode of SmackDown, he was unsuccessful in qualifying for King of the Ring as he was defeated by Alberto Del Rio by count-out thanks to interference by his personal ring announcer, Ricardo Rodriguez.
At the SmackDown tapings on January 4, Big Show participated in a Fatal 4-Way match to determine the #1 Contender for the World Heavyweight Championship. He lost due to interference by former Nexus leader Wade Barrett. The next week, Show faced Barrett, and won via DQ, when former Nexus members Heath Slater and Justin Gabriel attacked him. Moments later Ezekiel Jackson appeared to help him, but instead attacked Big Show. The next week, Barrett, Slater, Gabriel and Jackson informed that they had formed the Corre. In the following weeks, the Corre continued to assault Show, due to the size and power of Ezekiel Jackson. At Elimination Chamber, Show participated in the Elimination Chamber match, eliminating Wade Barrett before eliminated by Kane. Big Show would feud with the Corre in the following weeks.
On the March 4 episode of SmackDown, Big Show faced Kane in a confrontation until the Corre interfered on Kane's behalf. However, a miscommunication led to Kane turning on the Corre. Big Show and Kane thus reunited to take on the Corre. At WrestleMania XXVII, Big Show and Kane would team together with Santino Marella and Kofi Kingston to beat the Corre.
On the April 22 episode of SmackDown, the duo defeated Corre members Justin Gabriel and Heath Slater to win the WWE Tag Team Championship, their second championship win as a team. Big Show was drafted to Raw as a part of the 2011 WWE Draft. He and Kane then started feuding with the New Nexus. After defending the titles against Wade Barrett and Ezekiel Jackson at Extreme Rules and CM Punk and Mason Ryan at Over the Limit, Kane and Big Show lost their titles to Michael McGilligutty and David Otunga on the following day on Raw. After losing the titles, Show was run over by Alberto Del Rio's car, driven by his ring announcer Ricardo Rodriguez, and was sidelined with an injury for almost a month. He returned during a match between Kane and Del Rio, attacking both Del Rio and Rodriguez.
Show then began feuding with Mark Henry after he attacked and injured him on the June 17 edition of SmackDown, as Big Show's frustrations and anger towards Del Rio was redirected unintentionally to Mark Henry. Henry retaliated by attacking Big Show during his match on Capitol Punishment and hitting him with the World Strongest Slam through the announce table, thus costing Show his match against Del Rio. Henry did same thing on Kane through the announce table the next day on Raw after their arm wrestling match, and again on the June 27 episode. Henry then broke the cage door during the steel cage between Big Show and Alberto Del Rio, allowing Del Rio to escape. He then attacked Show with the cage door, breaking the cage viciously. On July 17, 2011 at Money in the Bank, Henry defeated Big Show. After the match, Henry fractured Show's fibula, keeping him out of action for almost four months.
On the October 7 episode of SmackDown, Show returned to SmackDown and became number-one contender for the World Heavyweight Championship after he attacked Mark Henry and chokeslammed him through the announcer table. At Vengeance Big Show fought Henry to a no contest after the ring collapsed following a superplex from Henry, similar to his match with Brock Lesnar in 2003. This time less damage was done, and the damage mainly occurred around the lower right hand ring post. Show would up being taken out on a motorized cart with a flatbed. Show faced Mark Henry for the World Heavyweight Championship once again at Survivor Series winning via disqualification when Henry hit Show with a low blow, afterwards he leg dropped a steel chair on Henry's leg, much like what Henry did to Show months before.
On December 18 at TLC: Tables, Ladders & Chairs, Big Show finally defeated Henry for the World Heavyweight Championship in a Chairs Match. However, Henry would knock Big Show out with a DDT onto a steel chair and Daniel Bryan immediately cashed his Money in the Bank contract on Big Show to win the title from him causing Show to have the shortest World Heavyweight Championship reign lasting 45 seconds. Show challenged Bryan for his world title on the January 6, 2012 episode of SmackDown, but Bryan retained his title by disqualification when he goaded Mark Henry into attacking him. The following week on SmackDown, Show received a rematch for the title contested under no disqualification, no count-out rules. Bryan again retained his title as the rematch ended in a no contest after Show accidentally crashed into AJ (Bryan's storyline girlfriend) at ringside, injuring her. At the 2012 Royal Rumble event, Show faced Bryan and Henry in a triple threat steel cage match for the world title, but Bryan escaped the steel cage to retain his title. At the Elimination Chamber event, Show failed again to capture the World Heavyweight Championship after he was eliminated second by Cody Rhodes.
In the following weeks, Show would begin a feud with Rhodes after Rhodes would highlight Show's embarrassing moments in previous WrestleManias, often costing Show to lose matches in the process. At WrestleMania XXVIII, Big Show defeated Rhodes to win the Intercontinental Championship. With this, Big Show became the sixth wrestler to win the Triple Crown Championship in the WWE. Show's feud with Rhodes would continue with Show highlighting embarrassing moments in Rhodes' career. After only a four-week reign, Show would lose the title back to Rhodes at Extreme Rules in Tables match. Show received his rematch on the May 7 episode of Raw SuperShow, where he defeated Rhodes via countout after he walked out on the match.
After a series of confrontations with General Manager John Laurinaitis, he was fired by Laurinaitis for making fun of his voice on the May 14 episode of Raw. Big Show returned on May 20 at Over the Limit, appearing to help John Cena in his match with John Laurinaitis, and knocked Cena out with a WMD, allowing Laurinaitis to win the match by pinfall, turning heel again in the process. The following night on Raw, Big Show explained that his actions were of necessity to keep his job in the WWE, therefore resulting in Laurinaitis re-signing him to an "ironclad contract with a big fat bonus", also stating that nobody showed him any sympathy when he got fired. Over the next few weeks, he would attack Cena, Brodus Clay, Alex Riley, R-Truth, Santino Marella, Zack Ryder, and Kofi Kingston because of the terms of his contract, but on the June 21 episode of Raw, he would accidentally knock out Vince McMahon after the chairman announced that Laurinatis would be fired if Show loses to Cena at No Way Out in a steel cage. At the pay-per-view, Show was defeated by Cena in the cage match; as per the match's stipulation, Laurinaitis was fired. At Money in the Bank, Show faced Cena, Kane, Chris Jericho, and The Miz in WWE Championship Money in the Bank ladder match, but was unsuccessful as the match was won by Cena. On July 23 at Raw 1000, Big Show attacked Cena during his WWE Championship match against CM Punk causing a disqualification. He would continue the attack on Cena until The Rock made the save. The following week on Raw, a WWE Championship number one contenders match between Show and Cena ended in a no contest due to interference from Punk. Following this, both Show and Cena were entered in the championship match at SummerSlam by Raw General Manager AJ Lee. At the event, however, Show would be unsuccessful in winning the championship as Punk would go on to retain the title.
Show returned on the September 24, 2012 episode of Raw, attacking Brodus Clay and Tensai during their match. Four days later on SmackDown, Big Show defeated Randy Orton to become the number one contender to the World Heavyweight Championship. Show received his title opportunity on October 28 at Hell in a Cell, where he defeated Sheamus to win the World Heavyweight Championship for the second time. On November 18 at Survivor Series, Show would lose a title rematch to Sheamus via disqualification, retaining the World Heavyweight Championship as a result. Afterwards, Sheamus would attack Show and repeatedly hit him with a steel chair. This led to a Chairs match on December 16 at TLC: Tables, Ladders & Chairs, where Big Show defeated Sheamus to retain the World Heavyweight Championship. On the December 24 episode of Raw, Show was defeated by Sheamus in a non-title lumberjack match. On the December 28 episode of SmackDown, Show defended his title against Alberto Del Rio, however, the match ended in a no contest after Sheamus interfered and attacked Show. Three days later on Raw, Show defended the World Heavyweight Championship against Del Rio's ring announcer Ricardo Rodriguez and defeated him via disqualification after Del Rio attacked Show from behind. On January 8, 2013, at the tapings of the January 11 episode of SmackDown, Show lost the World Heavyweight Championship to Del Rio in a Last Man Standing match, ending his reign at 72 days. Show received his rematch for the title in another Last Man Standing match on January 27 at the Royal Rumble, but was again defeated by Del Rio when he used duck tape to stop Show from getting up. After Show repeatedly attacked Rodriguez, Del Rio submitted Show in a singles match at Elimination Chamber to once again retain his title. On the 1 March, 2013 edition of SmackDown, Big Show turned tweener when he knocked out Roman Reigns with the KO Punch after Reigns was shoved into him, but this was followed by a Chokeslam to Randy Orton, which caused Sheamus to then Brogue Kick Big Show in retaliation to his attack on Orton. He continued to show signs of a turn, after the 4th March, 2013 edition of RAW went off the air, as he was beaten down by The Shield, as seen on WWE Active. On the March 8 edition of SmackDown, he would again assist Sheamus and Orton in warding off The Shield. After, he would turn his attention to Sheamus and knock him out with the KO Punch, only to receive an RKO from Orton. On the March 11 episode of Raw, Show faced Seth Rollins of the Shield, with the match ending in a disqualification win for Show when the other Shield members interfered on Rollins' behalf. On the March 18 episode of Raw, Big Show came to the aid of Randy Orton and Sheamus from an attack by The Shield, making his intentions to replace Ryback as their partner against the Shield at WrestleMania 29 known to them. This was the beginning of an uneasy alliance, as the team won matches together, but showed tension due mainly to the feud between Sheamus and Show. On the March 25 episode of Raw, Sheamus was attacked backstage by The Shield, which prompted Big Show to come to his aid. Later on in the evening after the Shield won a 6-man tag match and attacked The Great Khali, Show, Sheamus, and Orton launched a successful attack on the Shield, forcing them to retreat. At WrestleMania 29, Big Show, Sheamus, and Randy Orton lost to the Shield when Orton was pinned after stealing a hot tag from Big Show. After the match, a frustrated Big Show knocked out Orton and Sheamus for repeatedly refusing to tag him in the match. The next night on Raw, Sheamus and Orton faced each other in a match to determine who would get to face Big Show, but Show interfered in the match and attacked Orton. On 12 April 2013, Big Show lost against Sheamus and Randy Orton in a handicap match.On the April 19 episode of Smackdown, however, Big Show teamed up with former rival Mark Henry to defeat them in a tag-team match. The feud between Big Show and Orton led to an Extreme Rules Match at Extreme Rules, which Show lost. That same month, Big Show took time off from WWE to deal with an pre-existing torn labrum injury, effectively sidelining him for approximately two months. It was announced on the July 19th edition of SmackDown that Show would be returning to the July 22nd edition of Raw. However, Show didn't return to the show because of a knee injury. Big Show returned to WWE on August 11 at a house show in Oakland, California. Show made his televised return on the following night's Raw, helping Mark Henry and Rob Van Dam fend off an attack by The Shield making a face turn. Four days later on SmackDown, Show, Henry, and Van Dam defeated the Shield in a six-man tag team match. Beginning in late August, Big Show was placed into an uncomfortable situation by COO Triple H where his outspoken friends The Miz, Dolph Ziggler and number one contender Daniel Bryan especially would be placed in unfair matches, where Big Show was ordered to watch them get beat up at ringside and if he intervened, he'd be fired. As Big Show could not afford to lose his job due to bad money decisions in the past, he would feel tremendously upset that he had to do what he was told. On the September 2 edition of Raw, Big Show was told he had a match with Daniel Bryan and although he didn't really want to hurt Bryan, the more stubborn Bryan would not give it up. Prior to the match, Stephanie McMahon gave Show an encouragement speech backstage, claiming this was best for the business. Eventually, Triple H and The Shield got involved in his match, with Triple H and Stephanie McMahon demanding that Big Show ball up his fist and knock out Bryan as The Shield held him in place; Show did indeed reluctantly KO punch Bryan, as his job depended on it. Big Show was then ordered to watch Daniel Bryan's match against Dean Ambrose, the stipulation being if he touched any member of the Shield, he'd be terminated. As Bryan and Show celebrated Bryan's victory, Randy Orton attacked Bryan, as well as the Shield. Show snapped, grabbed a chair, and threatened to use it. He backed down, but then Triple H and Stephanie McMahon came out to once again tell him to knock Bryan out. Big Show refused to do it, and Orton began to yell at him. When Orton went to pick up a defenseless Bryan, Bryan recovered and kneed Orton in the face. Big Show left the ring happy, and let Bryan have his moment. On the September 13 of SmackDown, due to his refusal to knocking Daniel Bryan out, he was suspended for a night by Triple H, then he was attacked by The Shield. Three days later, he was forced by Stephanie MacMahon to knock out Dusty Rhodes, leaving him unconscious and accompanied him to the hospital moments later. On the September 23, 2013 episode of Raw, Big Show knocked out The Miz without hesitation after Stephanie McMahon asked him to do so. On the September 30 episode of RAW, Show stated in an interview that he's had enough of Triple H pushing him around, while also vowing to punch him out. Show never got to it, and was almost arrested. Stephanie McMahon would save him seconds later. After Stephanie told Show he wasn't pleasing his wife, he would get enraged and punch a wall. Triple H then made a match for Show on Smackdown, putting him in a handicap match against the Shield. Randy Orton was later added to the match making it a 4-on-1 handicap. Show would win the match by disqualification after Orton used a steel chair on Show. At WWE Battleground Big Show interfered in the WWE title match between Bryan and Orton and knocked out both of them sending a message to Triple H and possibly the Shield as well. The following night on Monday Night Raw, he was slapped by Stephanie McMahon after Big Show said Stephanie and Hunter had told him to knock out Daniel Bryan and then she (kayfabe) fired him. He returned later in the night after the main event and attacked the Shield and then proceeded to knock out Triple H. A week later on RAW, Big Show would interfere in a no disqualification match between Goldust and Cody Rhodes and Roman Reigns and Seth Rollins for the WWE Tag Team Titles, knocking out Reigns, Rollins, and Dean Ambrose, costing Reigns and Rollins the titles. On the October 18 edition of SmackDown, Show made an unannounced in-ring appearance using a ticket signed by Daniel Bryan. He was then confronted by Raw GM Brad Maddox and Smackdown GM Vickie Guerrero. After both attempted to remind Show of his terminated status, Big Show retaliated by stating that "as a man who has lost everything, he has nothing left to lose", followed by knocking out Maddox before exiting the ring. On the October 21st edition of Raw the following Monday, he appeared via-satellite and aired his grievances against Triple H and Stephanie McMahon (even mentioning a lawsuit against The Authority) before he was shut-off mid-sentence by Stephanie herself. He later appeared in the broadcast driving a semi-truck during the contract signing between Daniel Bryan and Randy Orton. A week later on RAW, Big Show would interrupt Randy Orton's WWE Championship celebration by knocking out Orton. Unfortunately, however, when Michael Cole conducted an interview with Triple H uploaded onto WWE's official website on October 30, 2013, Triple H announced that Show is banned from WWE for life in kayfabe. On the November 4th Raw, The Authority was forced by the Board of Directors to give Big Show whatever he wants in return for not suing the company. Big Show wanted his job back and a WWE Championship match at Survivor Series, which he received. He was then forced to compete in a handicap match against The Shield and Randy Orton. Big Show won the match by disqualification after Kane, who had recently pledged allegiance to The Authority, distracted him. The Shield proceeded to Triple Powerbomb him through the announcers table. The next week on RAW, after Orton lost to Cody Rhodes and Goldust by countout, Big Show would come out to attack Orton, chokeslamming him through the announce table. Show eventually got a shot at Orton's WWE Championship at Survivor Series, but was again unsuccessful. At TLC: Tables, Ladders & Chairs, Rey Mysterio teamed with Big Show to unsuccessfully challenge Cody Rhodes and Goldust for the WWE Tag Team Championship in a four-way match, also involving Ryback and Curtis Axel, and The Real Americans.
On the December 30 edition of Raw, Brock Lesnar returned with his agent Paul Heyman to announce his intentions to challenge the winner of the match between Orton and Cena for the WWE World Heavyweight Championship. Lesnar then called out any wrestler who wanted to stop him, which resulted in Mark Henry answering the challenge and the two brawling until Lesnar speared Henry through the ringside fan barricade. and hitting him with an F-5 on the arena floor. The following week on Old School Raw, Henry challenged him again only to have Lesnar dislocate his elbow with the Kimura Lock. Following this, Big Show came out and confronted Lesnar, which lead to a short physical confrontation between the two, with Show throwing Lesnar across the ring. On January 10, Big Show issued a challenge to Lesnar to fight during a Miz TV interview on SmackDown. Heyman accepted the challenge on behalf of Lesnar, and said it would take place at the Royal Rumble. At the Rumble, Lesnar ambushed Show before the match started and hit him with a chair 19 times. Lesnar then soundly defeated him in the match. After a month of absence, Big Show would return to the WWE on the March 7th, 2014 edition of Smackdown, to save Daniel Bryan from Batista and Kane and team with Bryan later in the night to defeat Kane and Batista in a tag team match. Big Show participated in the André the Giant Memorial Battle Royal at WrestleMania XXX, being the last person eliminated by winner Cesaro. On the April 11 Smackdown, Show suffered a loss to Cesaro when Cesaro hit the Neutralizer. On Raw April 14, Show hit the K.O. Punch on Damien Sandow before there match after Damien insulted him. On the June 6th edition of Friday Night Smackdown, Big Show confronted Seth Rollins, calling him a "slimy rotten piece of trash" and that he wanted to face Rollins later that night. However, Triple H told Big Show that he would face Randy Orton in the main event of the night. In the main event, Big Show defeated Randy Orton via disqualification after Rollins attacked Show. On July 26, 2014, Big Show made his return at a WWE house show, defeating Cesaro. He made his television return on the August 8th edition of SmackDown, teaming with Mark Henry defeating RybAxel.
On the 5th September edition of Smackdown Big Show and Mark Henry teamed up with John Cena, Chris Jericho and Roman Reigns in which they won a 10 man tag team match by disqualification against Wyatt family, Kane and Seth Rollins. He then began feuding with the big Russian Rusev in which Big Show would win by DQ (disqualification). On October 13th episode of Raw he faced the big Russian Rusev and lost by DQ in which he and Mark Henry attacked him ending it with a WMD. At WWE Hell in a Cell on October 26, Big Show was defeated by Rusev by TKO when he passed out to Rusev's submission hold, the Accolade.
The following night on Raw, Big Show and Mark Henry faced the WWE Tag Team Champions Cody Rhodes and Goldust for the title. Henry attacked Big Show, costing their team the match. During a television taping in October 2014, Big Show encouraged the live audience to send a get well message to the injured Daniel Bryan. On the November 10 edition of Raw, Big Show came out to save Dolph Ziggler when Mark Henry was going to do the World's Strongest Slam on the steel steps to Ziggler, and joined Team Cena against The Authority at Survivor Series 2014.
Big Show was given an opportunity to leave Team Cena and get in the WWE Hall of Fame 2015 by Stephanie McMahon he refused and was booked in a match against Sheamus with the winner getting a WWE World Title shot at a later date During the march Sheamus was attacked and given World's Strongest Slam through the announce table as Rusev attacked Big Show and put him the accolade causing Big Show to lose consciousness.
At Survivor Series, Big Show turned on Cena by hitting the KO Punch to allow him to be pinned. He then shook hands with Triple H, and left, intentionally getting himself counted out. However, Team Cena won the match when Dolph Ziggler pinned Seth Rollins, thanks to assistance by the debuting Sting. The next night on Raw, Big Show explained his actions, stating he has a family to care for and the Authority had created issues for him in the past, thus he had to make that tough decision. He was then confronted by Erick Rowan who referred to him as a bully, igniting a feud for turning his back on the team. Big Show faced Rowan in a first-ever Steel Stairs match at TLC 2014 pay-per-view and won. On December 29, 2014 the guest general managers of Raw, Christian and Edge hosted Seth Rollins as the special guest on their talk show. Rollins however took out Christian with the help of Big Show and J&J Security and punced on Edge's injured neck. Rollins threatened that if Cena didn't bring back The Authority he would hit Edge with a Curb Stomp which would snap his neck since he had to retire because any further damage could cause him to become paralysed or worse. Cena in order to save Edge brought The Authority back to power. Even so, Rollins tried to break Edge's neck anyway, but Cena thwarted him and Rollins beat Cena up with the help of Big Show and J&J Security. After beating up Cena, he along with his partners proceeded to the ramp. Brock Lesnar and Paul Heyman then came out to the ramp and Heyman shook the hand of Rollins. Triple H and Stephanie McMahon then came out and celebrated their return. On January 25, 2015 at the Royal Rumble, Big Show entered the Rumble match at #29, eliminating five superstars before being eliminated by eventual winner, Roman Reigns. At Fastlane, The Authority (Big Show, Seth Rollins and Kane) defeated Dolph Ziggler, Erick Rowan and Ryback when Kane pinned Ziggler. Big Show won the 2nd Annual André the Giant Memorial Battle Royal at WrestleMania 31. Big Show then moved on to feud with Roman Reigns, chokeslamming him on a taxi cab on the April 12 episode of Raw. However, Big Show would lose to Roman Reigns in a Last Man Standing match at Extreme Rules. Big Show would take a hiatus after that and would return the night after Elimination Chamber. He would knock out The Miz and confront Ryback, beginning a feud with him leading to having title match for the Intercontinental Championship at Money in the Bank, in which he was unsuccessful after being attacked by The Miz to earn a disqualification victory. It was later announced that Show will face Ryback and Miz at Battleground in a triple threat match for the title, but due to Ryback's recent knee injury, the match did not take place. At WWE Battleground, Big Show showed signs of a face turn after knocking out The Miz. The next night on Raw, Show defeated Miz, and after the match, Show cut a promo on Ryback, and challenged Ryback to appear the next night on Tough Enough. Show also challenged the Tough Enough participants, remaining a heel. On August 8, Big Show would face Jack Swagger in a winning effort on an episode of Main Event. At SummerSlam, Show lost to Ryback in a triple threat match also involving The Miz for the Intercontinental Championship. On the August 27 episode of SmackDown, Big Show seemingly turned face after knocking out Rusev during a tag team match against Ryback and Dolph Ziggler. On the August 31 episode of Raw, Show showed more signs of a face turn after The Miz cost him the Intercontinental Championship in a match with Ryback. The face turn proved to be short-lived, however, since Big Show turned heel again on the September 7 episode of Raw, when he attacked Cesaro after his match with The Miz. The following week, Show took on Sting in Sting's Raw in-ring debut. The match later turned into a tag team match, where Show teamed with Seth Rollins and Sting teamed with John Cena. Show and Rollins lost after Rollins tapped out to Sting's Scorpion Deathlock. On October 3 at Live from Madison Square Garden, Big Show would be defeated by Brock Lesnar. On the November 9 episode of Raw, Big Show would enter the 16-man tournament to crown the new WWE World Heavyweight Champion, where he would lose to Roman Reigns in the first round.
On the December 28, 2015 episode of Raw, Big Show declared himself as an entrant in the upcoming Royal Rumble Match. On the January 4 episode of Raw, during a match with Ryback ,The Wyatt Family interfered and attacked both Big Show and Ryback. On the January 18th episode of Raw, Big Show faced Heath Slater and knocked out the Social Outcasts, before interacting with the fans and turning face in the process for the first time since 2014 Survivor Series. At the Royal Rumble event, he was eliminated by Braun Strowman. On the January 28th episode of SmackDown, Big Show cemented his face turn by helping Roman Reigns, Dean Ambrose, and Chris Jericho fend off all 4 members of The Wyatt Family. On the February 1 episode of Raw, Big Show defeated Erick Rowan by pinfall. On the February 15 Raw, he defeated Braun Strowman in the main event by disqualification when the Wyatt Family interfered. Ryback and Kane would eventually come out to make the save, setting up a six man tag team match for Fastlane, which Show's team would win. At WrestleMania 32, Big Show entered the Andre The Giant Memorial Battle Royal and had a confrontation with old enemy Shaquille O'Neal. Show was ultimately the fourth person eliminated as both he and O'Neal were eliminated simultaneously by multiple superstars.
Show returned on the May 30, episode of Raw in a backstage segment, giving advice to Apollo Crews. On the July 4 episode of Raw, Big Show was part of the main-event, where he teamed with "Team USA", which consisted of himself, Kane, Apollo Crews, Mark Henry, Zack Ryder, Jack Swagger and The Dudley Boyz (Bubba Ray Dudley and D-Von Dudley), facing off against "The Multinational Alliance", which consisted of Kevin Owens, Chris Jericho, Sami Zayn, Cesaro, Sheamus, Alberto Del Rio and The Lucha Dragons (Kalisto and Sin Cara) in a 16-man elimination tag team match, with Big Show and Ryder being the sole survivors.
On July 19, at the 2016 WWE Draft, Big Show was drafted to Raw. On the December 5 episode of Raw, Big Show made his return as Seth Rollins' surprise opponent chosen by Kevin Owens. During the match, Owens would interfere, leading Big Show to chokeslam him and intentionally counting himself out.
External links
[
]