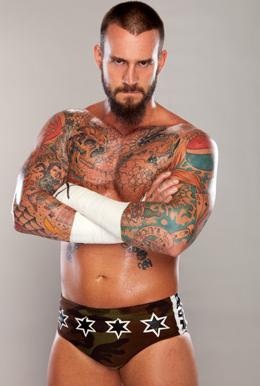 He made his debut on September 8, 2005, in a dark match, where he, Nigel McGuinness and Paul Burchill were defeated by Deuce, Elijah Burke and Seth Skyfire. Punk had a minor appearance at WrestleMania 22 on April 2, 2006 as one of the gangsters who rode a 1930s era car to the ring before John Cena's entrance.
On June 24, 2006, Punk made his ECW debut during a house show at the former ECW Arena, defeating Stevie Richards. He made his TV debut on the July 4 episode of ECW on Sci Fi, cutting a brief pre-taped promo about his straight edge lifestyle emphasizing the disciplinary aspects of being drug and alcohol free. Although he had retained the straight edge gimmick, he now had a Muay Thai training background. Punk made his TV wrestling debut on August 1, 2006 at the Hammerstein Ballroom, defeating Justin Credible. CM Punk established himself in ECW by going undefeated, defeating opponents such as Christopher W. Anderson, Stevie Richards and Shannon Moore.
Soon after, Punk began feuding with Mike Knox after Knox's girlfriend, Kelly Kelly, was seen to have feelings for Punk. Punk defeated Knox in their first singles match (qualifying for the Extreme Elimination Chamber at December to Dismember in the process) as well as the rematch, after which Kelly Kelly celebrated CM Punk's victory over her boyfriend. Punk then teamed with D-Generation X and the Hardy Boyz in their Survivor Series match against Rated-RKO, Knox, Johnny Nitro and Gregory Helms, a match in which all the participants on DX's side survived elimination. At December to Dismember, Punk participated in the Elimination Chamber for the ECW World Championship; however, he was the first person eliminated by Rob Van Dam.
Following the pay-per-view, Punk entered into a feud with Hardcore Holly, who ended Punk's six-month unbeaten streak in singles competition on January 9, 2007. Punk went on to feud with Matt Striker, who gave him his second singles loss since being in ECW on January 30. Punk then qualified for the Money in the Bank ladder match at WrestleMania 23 by defeating Johnny Nitro. In the final week leading up to WrestleMania 23, Punk made appearances on both Raw and Friday Night SmackDown!, defeating Kenny Dykstra and former World Heavyweight Champion King Booker, respectively. At WrestleMania 23, Punk competed in, but did not win, the Money in the Bank ladder match, being knocked off the ladder just seconds before the winner, Mr. Kennedy, claimed the briefcase.
On the April 10, 2007 episode of ECW on Sci Fi, Punk briefly became a villain by officially joining the New Breed alliance, after several weeks in which both the New Breed and the ECW Originals had attempted to recruit him. Two weeks later, however, Punk betrayed the New Breed during a four on four elimination match between the New Breed and ECW Originals by kicking New Breed leader Elijah Burke in the back of the head and costing them the match. After the match, Punk proceeded to deliver his finisher, the Go To Sleep, on Burke and sarcastically apologized before leaving the ring alone, becoming a fan favorite again. WWE.com later confirmed that Punk was no longer a member of the New Breed. At Judgment Day, Punk wrestled and defeated Burke in his first singles match on a pay-per-view. Punk then went on to One Night Stand and teamed up with Tommy Dreamer and The Sandman in a tables match to defeat the New Breed.
When ECW Champion Bobby Lashley was drafted to Raw and stripped of the ECW Championship, a mini-tournament was announced to declare a new champion among Punk, Elijah Burke, Marcus Cor Von and Chris Benoit. Punk defeated Marcus Cor Von on the June 19, 2007 episode of ECW on Sci Fi. By doing so, CM Punk was meant to face Chris Benoit at Vengeance: Night of Champions for the vacant ECW Championship. Benoit, however, was hastily replaced by Johnny Nitro when Benoit no-showed the event due to what was described on-air as "personal reasons". Nitro subsequently defeated Punk at Vengeance for the vacant championship. Punk won another shot at the title at The Great American Bash against Nitro, who had changed his moniker to John Morrison by this point; however, Punk was defeated again by Morrison. The next week, Punk challenged Elijah Burke and Tommy Dreamer in a triple threat match to determine the next competitor in Morrison's 15 Minutes of Fame Challenge, in which Punk came out victorious. A week later, Punk defeated Morrison with the Go To Sleep to earn an ECW Championship title match at SummerSlam. At SummerSlam, however, Punk lost the match when Morrison used the ropes for leverage.
At the September 1, 2007 (aired September 4) ECW taping, in a "last chance" title match, Punk defeated Morrison for the ECW Championship. Punk then went on to have successful title defenses against the likes of Elijah Burke (at Unforgiven), Big Daddy V via disqualification (at No Mercy) and The Miz (at Cyber Sunday). On the November 6, 2007 episode of ECW, Punk retained the ECW Championship in a match against Morrison following The Miz's interference. At Survivor Series, Punk retained his title in a Triple Threat match, beating The Miz and John Morrison. On the January 22, 2008 episode of ECW, Chavo Guerrero defeated CM Punk in a No Disqualification match to win the ECW Championship after Edge, (acting as a guest commentator at ringside) ran in and speared Punk.
At WrestleMania XXIV, Punk won the Money in the Bank ladder match, after defeating Chris Jericho, Montel Vontavious Porter, Shelton Benjamin, John Morrison, Mr. Kennedy and Carlito.
On the June 23, 2008 episode of Raw, CM Punk was drafted to the Raw brand during the 2008 WWE Draft. His first night on Raw came the following week, and he made an immediate impact. After Batista beat down World Heavyweight Champion Edge and left him lying in the ring, Punk and referee Mike Chioda ran to the ring with Punk carrying his Money in the Bank contract. Moments later, as Edge was struggling to get up, Punk hit him with the Go to Sleep and pinned him to win the World Heavyweight Championship. Later that night, Punk won his first defense of the title against JBL, who challenged him shortly after his win. His win over Edge would eventually also earn Punk the Slammy Award for the "Oh my God" Moment of the Year. Punk continued to hold and defend the title until Unforgiven on September 7, 2008. Before the Championship Scramble match, Punk was attacked by an early version of The Legacy (Randy Orton, Cody Rhodes and Ted DiBiase with Manu). Orton finished the assault by punting Punk in the head. It was announced that Punk could not participate in the match due to the attack and, as a result, he involuntarily forfeited the title. However, Punk was replaced by Chris Jericho, who went on to win the match and the title. He received a rematch eight days later on the September 15 episode of Raw, where he failed to regain the title in a steel cage match against Jericho.
On the October 27, 2008 episode of Raw, Punk and Kofi Kingston defeated Cody Rhodes and Ted DiBiase to win the World Tag Team Championship. The duo were members of Team Batista at Survivor Series, where their team lost to Team Orton. Punk was then entered in an Intercontinental Championship Tournament, in which the winner would get to challenge for the championship in the future. He would defeat Snitsky and John Morrison in the first two rounds. Punk and Kingston lost the World Tag Team Championship to John Morrison and The Miz at a live event on December 13, 2008. The next day Punk defeated Rey Mysterio at Armageddon to win the tournament. On the January 5 episode of Raw, Punk received his title match against William Regal, which ended in a disqualification, when Regal grabbed the referee's jersey. Due to this, Stephanie McMahon awarded Punk a rematch the following week, but this time it was himself that was disqualified. McMahon awarded him another rematch, this time a No Disqualification match on January 19 episode of Raw, Punk won the match and the title. With this win, he became the nineteenth Triple Crown Champion. Also, the victory made him the man to accomplish the Triple Crown in the fastest amount of time, shattering Kevin Nash's old record. Punk lost the title on the March 9 episode of Raw to John "Bradshaw" Layfield. At WrestleMania XXV, Punk won the Money in the Bank ladder match and became the first person to win the match twice.
On April 13, 2009 during the 2009 WWE Draft, Punk was drafted from Raw to SmackDown. In the period after the draft, Punk feuded with Umaga over Umaga's repeated surprise attacks while Punk was attempting to cash in his Money in the Bank Contract. This ultimately resulted in a Samoan strap match at Extreme Rules, which was won by Punk.
At the end of the pay-per-view, Punk cashed in his Money in the Bank contract to defeat Jeff Hardy for the World Heavyweight Championship. Punk retained his title in a Triple Threat match against both Edge and Hardy eight days later on the June 15 episode of Raw. At The Bash in Sacramento, California, Punk lost to Hardy by disqualification after kicking the referee after being afflicted with a storyline eye injury, claiming he could not see the referee, but because titles do not change hands on a disqualification, Punk retained the championship. Hardy called Punk into question about his eye injury, believing he had been feigning it, leading Punk to turn heel, claiming to be the moral superior of those who support Hardy due to his drug-free lifestyle. At Night of Champions, Punk lost the championship to Hardy. Their feud continued through SummerSlam, where Punk regained the title in a Tables, Ladders, and Chairs match; afterward, Punk was attacked by The Undertaker. On the August 28 episode of Friday Night SmackDown, Punk concluded his program with Hardy and achieved his goal of excising him from the WWE, defeating Hardy in a steel cage match wherein the loser agreed to leave the company. This act would earn Punk a second Slammy that December as he was named winner for 2009's "Shocker of the Year".
At Breaking Point Punk defeated The Undertaker in a submission match to retain the World Heavyweight Championship. Undertaker originally won the match with his Hell's Gate submission hold. SmackDown General Manager Theodore Long re-started the match after stating that the ban that former General Manager Vickie Guerrero had placed on the move was still in effect. Punk would win the match with his Anaconda Vice when referee Scott Armstrong called for the bell despite Undertaker never submitting (reminiscent to the Montreal Screwjob, which took place in the same venue in 1997). The feud between the two continued and at the Hell in a Cell PPV, Punk lost the World Heavyweight Championship to The Undertaker in a Hell in a Cell match. He lost two subsequent rematches against The Undertaker on Smackdown and in a Fatal Four Way match at Bragging Rights also involving Batista and Rey Mysterio.
His character took on a more sinister demeanor on the November 27 episode of SmackDown when he revealed that he had converted Luke Gallows, who had previously been portrayed as the mentally incompetent wrestler Festus, to the straight-edge lifestyle which had rid him of his mental troubles. Through January 2010, Punk began to convert planted members of the audience to a straight-edge lifestyle, making them take a pledge of allegiance to him and shaving their head. After converting many people who were not seen again, convert Serena began accompanying Punk and Gallows to form the Straight Edge Society. As well as leading this alliance, Punk was also the mentor of WWE NXT rookie Darren Young who flirted with the idea of becoming straight-edge before refusing just before his head was to be shaved.
In the Chamber match, he was eliminated by Rey Mysterio, whom he had feuding with leading into the PPV. Tensions escalated as Mysterio prevented him from winning a Money in the Bank qualifying match, causing Punk to interrupt Mysterio's celebration of his daughter's ninth birthday. Mysterio challenged Punk to a Street Fight at WrestleMania XXVI but lost to Gallows, meaning Punk picked the stipulation that if Rey lost he would have to join the Society. At WrestleMania, Punk lost to Mysterio sparking a rematch at Extreme Rules where Punk would have to shave his head, like his disciples, if he lost. Punk won this match after interference from a fourth member of the Society who kept his face covered. At Over The Limit, a third and final match was booked with both stipulations reactivated. In the match Punk lost and was subsequently shaved bald.
Embarrassed by being shaved bald as he considered himself always pure unlike his followers, Punk appeared on the following episode of SmackDown, May 29, wearing a mask to hide his baldness. At Fatal 4 Way, Punk challenged for the World Heavyweight Championship against Mysterio, The Big Show and the champion Jack Swagger, but was unsuccessful when he was attacked by Kane, who was accusing various people of attacking The Undertaker. On July 16's SmackDown, Punk was finally unmasked by Big Show while healing from an arm injury. The following week Show also unmasked the anonymous member of the Straight Edge Society who was revealed to be Joey Mercury. This led to a handicap match at SummerSlam where Show defeated the entire Society after Punk abandoned his teammates. Show also beat Punk in a singles match at Night of Champions. Following this Serena was released from WWE while Mercury became injured, severely thinning the Society. Gallows began showing signs of dissension too, and Punk defeated him on SmackDown, airing September 24, ending the group.
Punk was traded back to the Raw brand on October 11 after being swapped with Edge. He took part in the interbrand tag team match at Bragging Rights after injuring Evan Bourne to win a place, but the team lost. It was reported later that he was suffering with a hip injury that would stop him from competing. To keep a presence on television, he began commentating on Raw from November 22, having already commentated one episode of NXT. During his commentary, he criticized John Cena for his actions against The Nexus. Sometimes he favored heel wrestlers over face wrestlers. At the end of December, Punk left the commentary team after assaulting John Cena on Raw and SmackDown with a chair. Punk later revealed that his motives for the attacks were that he had joined and assumed control of The Nexus. He would then use the group to attack Randy Orton, blaming him for prematurely ending Punk's first World Heavyweight Championship reign in 2008; this led to a WrestleMania XXVII match and a Last Man Standing match at Extreme Rules both of which Punk lost.
In June, after pinning WWE Champion John Cena on Raw, Rey Mysterio at Capitol Punishment and finally Alberto Del Rio again in a contendership match (which included Mysterio) all within one week, Punk revealed his contract would expire at Money in the Bank and vowed to leave the company with the WWE Championship. After making a scathing on-air speech concerning the way in which WWE is run and its owner Vince McMahon, he was given a storyline suspension from televised WWE events but was reinstated the following week on Cena's insistence. Upon his return Punk ceased to appear with the remaining members of Nexus and the group would quietly dissolve the same month. This helped transition him from a villainous character back to being a fan favorite. Two weeks later, at Money in the Bank, CM Punk defeated John Cena to become the WWE Champion on his final night under contract with WWE.
Mysterio won the WWE Championship tournament on the July 25 episode of Raw, only to lose it to Cena later that night. After Cena's victory, Punk returned to Raw and upstaged the new WWE Champion's victory celebration while also entering into a title dispute. Triple H would later uphold both Punk and Cena's claims to the WWE Championship as legitimate and schedule the two to a match at SummerSlam to decide the undisputed WWE Champion. Punk prevailed but immediately lost the title to Alberto Del Rio, who had cashed in his Money in the Bank contract, after being attacked by Kevin Nash.
The night after SummerSlam Punk accused Nash of conspiring with Triple H to keep Punk away from the WWE Championship. After repeated confrontations Nash and Punk demanded to face each other at Night of Champions, to which Triple H acquiesced. However, after CM Punk's repeated verbal attacks towards him and his wife Stephanie McMahon, Triple H booked himself to replace Nash. At Night of Champions Punk lost a No Disqualification match after Nash, The Miz, and R-Truth attacked both men. Miz and Truth also attacked Punk at Hell in a Cell after he lost a WWE Championship Triple Threat match. He attempted to avenge this by teaming with Triple H against Miz and Truth at Vengeance, but lost again due to Nash attacking Triple H. This helped transition Punk's anti-establishment voice from Triple H to John Laurinaitis who became the interim RAW General Manager. CM Punk balked at Laurinaitis' promotion and verbally attacked him as a dull yes man.
On October 31, CM Punk strong-armed his way into a match with Del Rio at Survivor Series, where he regained the WWE Championship by way of submission with the Anaconda Vise. He went on to defend the title through the end of the year, retaining in a rematch with Del Rio on the November 28 episode of Raw and against both Del Rio and The Miz in a Triple threat TLC match at TLC: Tables, Ladders & Chairs. On the December 26 episode of Raw, CM Punk was defeated by Dolph Ziggler in a gauntlet match; as a result Ziggler became #1 contender to the WWE championship. Had he been successful Punk would have earned the right to face Laurinaitis in a match. The following Raw, Punk was defeated by Ziggler via countout following interference from Laurinaitis; retaining the championship as a result. Intermeddling from Laurinaitis caused Punk to lose to Ziggler throughout January which ultimately led to Punk attacking Laurinaitis in retaliation. At the Royal Rumble event, CM Punk successfully defended his title against Ziggler, despite Laurinaitis acting as the outside enforcer.
On the January 30 episode of Raw SuperShow, Chris Jericho attacked Punk and Daniel Bryan during their Champion vs. Champion match, giving Bryan the win. The following week, Jericho explained his actions by dismissing the WWE roster as imitations of himself and singling out Punk for claiming he was the best in the world, a moniker Jericho used the last time he was in WWE. Their rivalry continued through Elimination Chamber where Punk retained the WWE Championship in the namesake structure; while four competitors were eliminated, Jericho was unable to continue the match after being kicked out of the chamber by Punk, causing temporary injury. The following night on Raw, Jericho earned a match against Punk at WrestleMania XXVIII, and in a bid to psychologically unsettle him, he revealed Punk's father was an alcoholic and alleged that his sister was a drug addict, asserting that Punk's straight edge philosophy was paranoia to avoid the same vices and vowing to make Punk turn to alcohol by winning the title from him. John Laurinaitis added the stipulation that the WWE Championship could change hands via disqualification, which led to Jericho inciting Punk into using a weapon, but Punk resisted and retained the title. On the April 2 and 9 episodes of Raw SuperShow, Punk retained the WWE Championship against Mark Henry after losing to him via count-out and disqualification. Following both matches, Jericho attacked Punk and doused him with alcohol. On the April 16 episode of Raw SuperShow, Punk pinned Henry in a no disqualification, no countout match to retain his title. After repeated altercations, the feud between Jericho and Punk would culminate in a Chicago Street Fight at Extreme Rules where Punk defeated Jericho to retain the WWE Championship.
Punk renewed an old rivalry with Daniel Bryan at the May event Over the Limit, retaining the title after reversing Bryan's submission hold the "Yes!" Lock into a pinning combination, however, replays would show Punk visibly tapping out moments after the finish of the match. Punk and Bryan would then begin a concurrent feud with Kane, after attacking him with steel chairs on several occasions. On the June 1 episode of SmackDown, a WWE Championship match between Punk and Kane ended in a double disqualification after Bryan attacked both men. Meanwhile, Bryan's jilted ex-girlfriend AJ turned her affections to both Punk and Kane. This feud would culminate in a triple threat match at No Way Out, where Punk managed to retain the title after AJ distracted Kane. At Money in the Bank, Punk successfully defended the WWE Championship against Bryan in a No Disqualification match with AJ as special guest referee.
At Raw 1000 CM Punk defended his title against Money in the Bank winner John Cena in a bout marred by interference from Big Show. When the night's special guest The Rock - who had interrupted Punk earlier to announce he would be wrestling for the WWE Championship at the Royal Rumble - intervened Punk unexpectedly attacked him. The following week Punk justified his actions, claiming he was tired of people like Cena and Rock overshadowing him when the WWE champion should be the focus of the company; Punk asserted himself further soon after by disrupting a number one contender's match between Cena and Big Show. As a result both men were entered into the title match against Punk at SummerSlam where he successfully retained the WWE Championship. In the following weeks, Punk would demand respect from people like AJ Lee, Jerry Lawler and Bret Hart and eventually aligned with Paul Heyman in his feud with Cena. At Night of Champions, Punk retained the WWE Championship after he fought Cena to a draw. Punk would continue to feud with Cena, despite the latter's arm injury, rejecting the requests of Mick Foley and Jim Ross to pick him as his Hell in a Cell opponent and leading to a brawl with WWE Chairman Vince McMahon. Eventually, Cena would be out of the title match at Hell in a Cell, instead thrusting Ryback into the main event as Punk's opponent. On October 28 at the pay-per-view, Punk, with help from referee Brad Maddox, defeated Ryback in a Hell in a Cell match to retain the WWE Championship. The following night on Raw, a furious Mick Foley would confront Punk for refusing to pick John Cena as his Hell in a Cell opponent. This would lead to the two agreeing on meeting each other at Survivor Series in a traditional five-on-five elimination tag team match with Punk choosing Alberto Del Rio, Cody Rhodes, Damien Sandow, and The Miz for his own team. The following week, however, Punk would be taken out as captain, replaced by Dolph Ziggler, and booked in a triple threat WWE Championship match against John Cena and Ryback instead by Mr. McMahon. On November 18 at the pay-per-view, Punk won the match by pinning Cena, following interference from Seth Rollins, Dean Ambrose and Roman Reigns, allowing him to retain the WWE Championship and hold the title for a full year. On the December 3 episode of Raw, Punk suffered a knee injury after a violent encounter with Ryback. The following day, Punk underwent surgery to repair a partially torn meniscus, thus removing him from his title match against Ryback at TLC:Tables, Ladders and Chairs. Despite his injury, Punk became the longest reigning WWE Champion of the modern era on December 5, when he hit 381 days, surpassing John Cena's 380 day reign. Punk returned to in-ring action on the January 7, 2013, episode of Raw, retaining the WWE Championship against Ryback in a Tables, Ladders, and Chairs match, following interference from The Shield.
At the Royal Rumble on January 27, Punk defended the WWE Championship against The Rock in a match with the stipulation that if The Shield interfered, Punk would be stripped of the title. Punk originally pinned The Rock to retain after The Shield put Rock through a table while the arena lights were out. Vince McMahon began to announce that Punk would be stripped of the title, but he instead restarted the match at The Rock's request and Punk immediately lost the WWE Championship to The Rock, ending his record-setting reign at 434 days. Punk received a title rematch with Rock at the Elimination Chamber event where Rock was disqualified or counted out would result in Punk winning the title, but Rock pinned Punk to retain the title. On the February 25 episode of Raw, Punk faced Royal Rumble winner John Cena for his number one contendership to the WWE Championship, but was defeated.
On the March 4 edition of Raw, Punk badgered the audience for costing him a shot at the WWE Championship on WrestleMania and decided on ending the streak. To earn the right to defeat the Undertaker, Punk defeated Big Show, Randy Orton, and Sheamus in a fatal-four-way match to become the challenger to The Undertaker's undefeated WrestleMania Streak. The following week, as The Undertaker was paying tribute to his late manager, Paul Bearer, Punk interrupted the memorial by bragging about ending Undertaker's streak. An enraged Kane tried to attack Punk, but Punk escaped into the crowd. Kane's rage prompted Managing Supervisor Vickie Guerrero to set up a No Disqualification Match between Kane and Punk. Throughout the match, Punk repeatedly mocked The Undertaker; before Punk could gain the advantage by using his GTS on Kane, Undertaker's bells rang out and distracted Punk, which allowed Kane to win the match. The Undertaker then came out, and as he and Kane again paid tribute to Bearer, Punk seized Bearer's signature urn and smashed it repeatedly into Kane; Undertaker made his way to the ring, but Punk escaped up the ramp, where he mocked Undertaker again by posing in the Dead Man's signature pose with the urn. On the March 18 edition of Raw, Punk was seen juggling with the urn, toying with The Undertaker, and 'strategically' dropping it towards the end of the confrontation. On the final episode of Raw before WrestleMania, Punk ambushed Undertaker by disguising himself as a druid, complete with Paul Heyman dressed as Paul Bearer. When Undertaker started attacking the druids, Punk revealed himself and attacked Taker from behind, striking him with the urn and pouring the ashes on him. He would go on to lose to Undertaker at WrestleMania. On the April 15 episode of Raw, Punk addressed the crowd and recalled his WWE Championship reign, as well his matches with The Rock and The Undertaker. He then suddenly hugged Paul Heyman, handed the microphone to him, and left the arena, leaving Heyman and the crowd wondering what had happened. Punk made his return to a WWE ring at WWE Payback on June 16, defeating Chris Jericho. The next night on Raw, after Punk's match with Alberto Del Rio, Brock Lesnar returned and gave Punk an F-5. On the June 24 edition of Raw, Heyman promised Punk that he did not send Lesnar to attack him, and that he still considers Punk his best friend. He claimed that any problem Punk and Lesnar have with each other is between themselves. Later in the night, Punk defeated Darren Young; when Young and his tag team partner Titus O'Neil began attacking him, Heyman summoned Curtis Axel to help Punk fight them off, much to Punk's contempt. At Money in the Bank, Punk entered the WWE Championship contract Money in the Bank ladder match, but Paul Heyman turned on him during the match, causing him to lose. The next night on Raw, Punk called out Heyman. Heyman stated that without him, Punk was no longer the "Best in the World", and said he betrayed because Punk no longer wanted a business relationship with with him and believed he could not beat Brock Lesnar. Lesnar then came out and delivered a F-5 to Punk on the announce table, cemeting Punk as a fan-favorite. Punk would challenge Lesnar to a match at SummerSlam the following week on Raw and the challenge was accepted by Heyman on behalf of Lesnar. On the August 5 episode of Raw, Punk faced Curtis Axel in match, but it ended in a no contest after Punk was attacked Heyman. Afterwards, Lesnar came out and began brawling with Punk; despite putting up a valiant effort, Lesnar ultimately got the upper hand on Punk. Punk then got revenge the following week by attacking Lesnar with a camera and a steel chair after Heyman tried to trap Punk by having him fight both him and Lesnar instead of the scheduled match of Punk vs. Heyman. He would then deliver a Go To Sleep to Curtis Axel after he interfered while Punk was pursuing Heyman. Six days later at SummerSlam, Punk was defeated by Lesnar in a No Disqualifications match. On the next Raw, Punk had the chance to again become a "Paul Heyman guy", but declined by attacking Axel. The next week, Punk defeated Axel before being assaulted by he and Heyman. Punk was then scheduled to face Axel and Heyman in a handicap elimination match at Night Of Champions, later adding a No Disqualification to the stipulation. During the match, Punk tapped Axel out leaving only Heyman left to deal with, but in the process of attacking Heyman, Ryback attacked Punk and placed Heyman on top of Punk for the pin. At Battleground, Punk defeated Ryback after executing a low blow, whilst the referee was distracted by Heyman attempting to interfere in the match. On the October 14 episode of Raw, Punk defeated Axel in a Beat a Clock challenge match to determine the stipulation for his rematch with Ryback at the Hell in a Cell pay-per-view. He announced that his match will be two-on-one handicap match in the Hell in a Cell in which he would face Paul Heyman and Ryback. On October 27, at Hell in a Cell, Punk ultimately defeated Ryback and Paul Heyman. Punk faced Ryback again in a Street Fight match the following night on Raw, defeating Ryback by submission, thus ending their feud. After the match, he was attacked by The Wyatt Family (Bray Wyatt, Luke Harper and Erick Rowan), starting a feud with the trio. At Survivor Series, Punk and Daniel Bryan defeated Harper and Rowan in a tag team match.
After Bryan was "abducted" by the Wyatt Family the following night on Raw, Punk was attacked by old allies The Shield (Dean Ambrose, Seth Rollins, and Roman Reigns). The following week on Raw, Kane announced that Punk would face The Shield in a 3-on-1 Handicap match at Tables, Ladders & Chairs, which Punk won after Reigns accidentally speared Ambrose. At the Royal Rumble, Punk entered in at entrant #1. After having lasted until the final four, Kane, who was already eliminated earlier in the match by Punk, eliminated Punk from the outside.
Punk did not appear on the January 27 Raw after the Rumble, nor did he appear for the SmackDown taping on Tuesday despite being advertised for the event. By Wednesday, WWE.com stopped advertising Punk for future events. On February 20, Vince McMahon commented on Punk during a conference call to investors, saying that Punk was "taking a sabbatical". On the March 3 Raw, WWE acknowledged Punk's absence on television when the show started with Punk's entrance music playing, only for former manager Paul Heyman to come out and claim that Punk was not at Raw. Despite that, Punk's hometown crowd of Chicago continued to chant for Punk for the rest of the show, but Punk ultimately did not appear that night. On July 15, 2014, WWE (through WWE.com) moved Punk from the active roster to the alumni page without releasing a statement, effictively releasing him of his contractual obligations.
External links
Edit
Community content is available under
CC-BY-SA
unless otherwise noted.