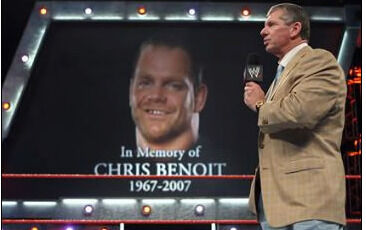 This episode of Monday Night Raw occurred on June 25, 2007 in Corpus Christi, Texas. This was a tribute show to Chris Benoit, who, along with his wife and child, were found dead the day before the event.
After finding out about the news, the WWE decided to reject the planned episode and instead celebrate the life of Benoit. The truth about the double murder-suicide was not yet known to WWE when the program aired live. Following the revelation, the WWE decided not to mention Benoit in broadcasts ever again, and replaced the special tribute show with the "John Cena Recap Show" hosted by Todd Grisham in other countries that the special had not yet aired in. The "John Cena Recap Show" is currently on the WWE Network.
The event itself was compiled of interviews about Benoit's life and career as told by friends and superstars. Matches of his career were also shown, as seen below.
Matches Shown:
[
]