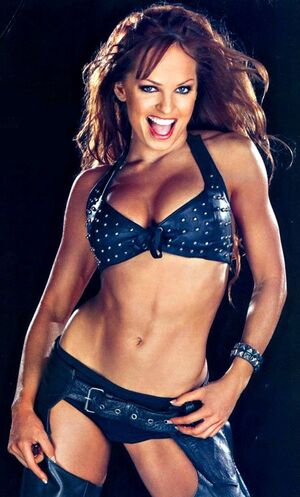 In the mid-2004, Hemme participated in the Diva Search, a competition held by World Wrestling Entertainment (WWE) in order to recruit new Divas. In the course of the competition, Hemme and the five other finalists faced seven existing Divas in a game of dodgeball at SummerSlam on August 15, eliminating all eight Divas with the loss of just one finalist, Joy Giovanni. Hemme was announced as the winner of the competition on September 20, with a prize of a one-year contract with WWE with remuneration of $250,000.
Hemme began her WWE career as a member of the Raw roster. She quickly began a feud with Carmella DeCesare, the runner-up of the Diva Search. The feud culminated in a "lingerie pillow fight" at Taboo Tuesday on October 19, with Hemme defeating her opponent by pinfall.
Following her feud with DeCesare, Hemme began a rivalry with WWE Women's Champion Trish Stratus. Stratus along with Molly Holly and Gail Kim threw Hemme an initiation party but, it soon turned into a 3-on-1 Bra and Panties Handicap match, Hemme was easily beaten. Stratus was ostensibly scornful of Hemme's appearance in the April 2005 issue of Playboy. Stratus interrupted Hemme's Playboy unveiling and spray painted all over the cover, Hemme responded by slapping her, this resulted in Stratus delivering a Chick Kick to her. Hemme eventually challenged Stratus to a match at WrestleMania 21, with Stratus's nemesis Lita training her in the weeks preceding the event. At WrestleMania 21 on April 3, Hemme unsuccessfully challenged Stratus for the Women's Championship.
In the months after WrestleMania, Hemme began another feud with Victoria, who claimed to be jealous of the opportunities afforded to Hemme. Hemme would feud with Victoria during Raw house shows defeating her on several occasions. On the June 6 episode of Raw, Hemme teamed up with Rosey and The Hurricane in a losing effort to Victoria and The Heart Throbs (Antonio and Romeo) in a six-person mixed tag team match. The feud culminated in a bout at Vengeance on June 26, which Victoria won after countering Hemme's sunset flip move by using the ropes to pin Hemme. With her feud with Victoria over, Hemme briefly aligned herself with Eugene before she and Stacy Keibler were traded to SmackDown! in exchange for Candice Michelle and Torrie Wilson on August 25.
On the September 30 episode of SmackDown, Hemme began a feud with Melina, the valet of MNM, after losing to her in a singles match, in the process joining forces with the Legion of Doom. At No Mercy on October 9, Hemme and the Legion of Doom defeated MNM in a six-person intergender tag team match. On the November 5 episode of SmackDown!, Hemme defeated Melina in a Bra and Panties match. Her feud with Melina continued into November, with Melina defeating Hemme in two televised singles bouts.
On December 5, 2005 she was released from her WWE contract.