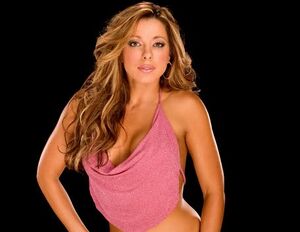 She made her World Wrestling Entertainment (WWE) television debut on the May 30 episode of SmackDown! as Vince McMahon's legal assistant. She debuted with the name "Dawn Marie Rinaldi" although it was quickly shortened to the original "Dawn Marie". In her initial storyline, she briefly feuded with Stacy Keibler over McMahon's affections until McMahon turned over the General Management position to his daughter, Stephanie McMahon, which was followed shortly by Keibler's departure for the RAW brand.
Marie's most high profile storyline during her first few years with the company was in 2002 and 2003 when she feuded with Torrie Wilson. On the October 17 episode of Smackdown!, Marie picked up her first victory when she teamed up with Matt Hardy to defeat Rikishi and Torrie Wilson. In the angle, Dawn Marie attempted to marry Wilson's real-life father Al Wilson. The two got married on an episode of SmackDown! in their underwear. In response, Wilson defeated Marie at No Mercy in October. She defeated Marie again at the Royal Rumble in 2003 in what was billed as a Stepmother vs. Stepdaughter match. The feud lasted approximately nine months.
Later, Marie began a second feud with Wilson. As part of the feud, the two had a match with Wilson's career on the line when the SmackDown! General Manager at the time, Kurt Angle, made the stipulation for the match at Judgment Day, which Wilson won.
After being on hiatus from SmackDown! programming, Marie began a new storyline with Miss Jackie, involving whether she and Jackie's fiancée, Charlie Haas, had an affair. This angle led up to a match between the two at Armageddon, with Haas as the guest referee. Marie won the match, but afterward, Haas confirmed their affair and broke off both relationships.
At the No Way Out pay-per-view, on February 20, Dawn Marie entered a feud with Michelle McCool after McCool attacked Marie during the Divas Contest where Marie and Torrie Wilson co-hosted the contest. On the March 3 episode of Smackdown!, Marie teamed up with Rene Dupree in losing effort to Big Show and McCool in a mixed tag team match. On the March 24 episode of Smackdown!, Dawn Marie pinned McCool by using the ropes for leverage. On the April 14 episode of Smackdown!, Dawn Marie was defeated by Torrie in a Divas Match, this would turn out to be Marie's last match.
Her last appearance with the company was at ECW One Night Stand, managing Lance Storm for his match against Chris Jericho. Afterward, she was released from her WWE contract on July 6, 2005.