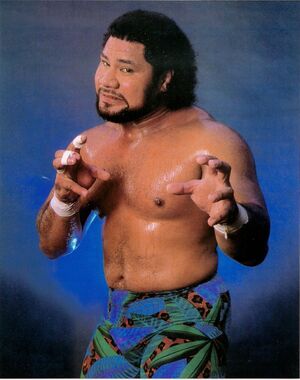 In 1986, Haku, as King Tonga, in his rookie year in the World Wrestling Federation, became a star by bodyslamming Big John Studd on Championship Wrestling. He made a name for himself as Haku in the WWF as half of "The Islanders" with Tama. The team had a classic feud with the British Bulldogs that was started when the Islanders, along with manager Bobby Heenan, kidnapped the Bulldogs' mascot, a Bulldog named Matilda.
In 1988, following King Harley Race's injury sustained in a match against Hulk Hogan, Haku was given Race's crown and robe and was rechristened "King Haku." He would cement his position as king by successfully defending his crown against the returning Race in a match at the 1989 Royal Rumble. He would later lose the "crown" to Hacksaw Jim Duggan. He would later go on to form the tag team known as The Colossal Connection with André the Giant and win the WWF Tag Team Championship from Ax and Smash Demolition on the December 30 edition of Superstars (taped on December 13). Haku and André lost the titles at WrestleMania VI, when Demolition defeated the Colossal Connection to regain the titles. Haku never legally tagged Andre into the match (due to Andre's ill health), late in the match Andre interfered but Haku accidentally struck him with a Savate kick which left Andre tied in the ropes, Haku was pinned shortly after this. The team's manager Bobby Heenan blamed Andre for the loss and even slapped the Giant who retaliated by attacking Heenan, after this Haku tried to attack Andre who blocked another kick and struck Haku repeatedly before leaving the ring alone to a standing ovation. Andre's face turn meant that the team had split.
Just after WrestleMania Haku became the first wrestler to challenge the new WWF champion, The Ultimate Warrior, but he lost the match. He formed a tag team shortly after this with fellow Heenan family member The Barbarian. Their most notable match was a defeat in the opening match of WrestleMania 7 against the Rockers (Shawn Michaels and Marty Jannetty).
Shortly after competing in the Royal Rumble of 1992, Haku left the WWF.
In 2001, he returned to the WWF and made a surprise appearance at the 2001 Royal Rumble. After the Rumble, he formed a tag team with Rikishi, but the team did not last long due to Rikishi's injury. Haku was left to wrestle on the lower card shows like Sunday Night Heat. He was eventually released from WWF, his final opponent being Shawn Stasiak on a WWF Jakked taping in Buffalo, New York on July 23, 2001.
Community content is available under
CC-BY-SA
unless otherwise noted.