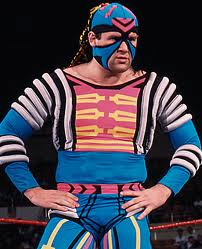 Moon signed with the World Wrestling Federation in 1990, working mainly on the lower card against a rookie Dustin Rhodes, Hillbilly Jim, and Al Perez, usually in a losing role. When Akio Sato decided to leave the US wrestling scene in the later days of 1990, it left Pat Tanaka without a partner in The Orient Express. The WWF decided to reunite the team known as Badd Company, only this time with Moon wearing a mask to hide the fact that he was not Asian and using the name of Kato, During this time, the team had a very well received match with their old enemies the Rockers at the 1991 Royal Rumble, Wrestlemania 6 and another good match against the New Foundation at the 1992 Royal Rumble, which were the only PPV appearances for the New Orient Express.
Sato briefly rejoined the team in 1991 to team with Tanaka and Kato for a series of 6-man tag-team matches on WWF house shows, but left the WWF after only a handful of matches. Tanaka would leave the WWF in early 1992.
Kato (as Max Moon) would wrestle and defeat Terry Taylor in a series of house show matches during the rest of 1992, but otherwise, his biggest victories came against Rick Martel and Repo Man, both by disqualification.
On January 11, 1993, Max Moon wrestled and lost an Intercontinental Championship match to former tag team partner/longtime rival Shawn Michaels on the very first Monday Night Raw. The loss to Michaels was a sign of things to come for the Max Moon gimmick as he began losing to midcarders such as Skinner and Rick Martel. The Max Moon gimmick only appeared at one PPV, participating in the 30 Man Elimination match at the 1993 Royal Rumble, where he was in the ring less than 2 minutes. In late February, Max Moon's contract with the WWF expired and was not renewed.
Community content is available under
CC-BY-SA
unless otherwise noted.