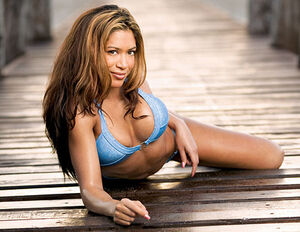 Melina Nava Perez (March 9, 1979), better known simply as Melina, is an American professional wrestler best known working for World Wrestling Entertainment (WWE) under the ring name Melina.
Melina joined the independent professional wrestling circuit before joining WWE in 2004. Initially, she was a manager for the tag team of MNM. She managed them to three reigns as WWE Tag Team Champions, as well as former boyfriend and MNM member Johnny Nitro to two reigns as WWE Intercontinental Champion. Melina made her WWE singles debut in 2005, and is a three-time WWE Women's Champion, winning the belt twice in 2007 and once in 2009. She also captured the WWE Divas Championship on two occasions in 2009 and 2010, making her a five-time champion overall. Melina is also one of the only 4 women who were able to hold both titles, and one of two women who held both belts on more than one occasion. Melina has an interesting record of performing in the most lumberjack matches than any other female wrestler, and she also has one of the most diverse wrestling moveset in wrestling history ever.
On August 5, 2011, Melina has left the in-ring and released from her contract with WWE.