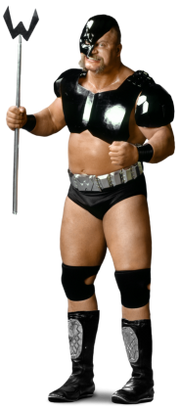 Upon their arrival in the WWF, the Powers were faces, initially managed by Tito Santana, and feuded with World Tag Team Champions Demolition (Ax and Smash), who had defeated Strike Force (Santana and Rick Martel) for the title and then injured Martel (kayfabe). The Powers were introduced as mercenaries to help Martel and Santana gain revenge on Demolition for both the title loss and the injury to Martel. They were soon after managed by The Baron.
At Survivor Series, the Powers' team defeated Demolition's team in tag team elimination match, with the Powers being the sole survivors of their team. After the match, Demolition's manager Mr. Fuji double-crossed them and after they beat him up and left, the Powers came to his aid, gaining Fuji as their manager in the process, in return for which his interference helped the Powers eliminate the last remaining opponents, the Conquistadors. Afterwards, the Powers and Fuji celebrated until Demolition returned and drove them from the ring. As a result, the Powers became villains while Demolition became fan favorites. In 1989, Szopinski entered the Royal Rumble as the twenty-first entrant, but lasted only two seconds before being eliminated by Hulk Hogan, a record which stood for twenty years before being broken by Santino Marella at the 2009 Royal Rumble. At WrestleMania V, the Powers of Pain teamed with Fuji in a losing effort to Demolition in a match for the World Tag Team Championship.
In early 1990, the Powers of Pain split, with Fuji selling Barbarian's contract to Bobby "The Brain" Heenan while selling Warlord's contract to Slick. After the team's split, Warlord received an attire change, where he abandoned the Road Warrior-esque reverse mohawk and face paint in favor of a shaved head and a silver metallic cyborg Phantom of the Opera half-mask and black armor that he wore to the ring. He also brought a metal staff topped with a "W" with him to his matches, and used it as a weapon on occasion. On April 17, 1992, The Warlord lost to Virgil in his final match for the WWF.
Community content is available under
CC-BY-SA
unless otherwise noted.