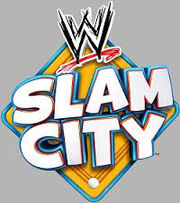 WWE Slam City is an animated short that is featured on YouTube and on the
WWE Network
. It's plot is about The Finisher, a maniacal villain wh takes over the
WWE
and fires all of the superstars. The are then sent to Slam City to find day jobs such as a mechanic, lunch lady, or a theater usher.
Episode 1: Auto-Tude AdjustmentEdit
Episode 2: Alberto the BaristaEdit
Episode 3: A Big BrawlEdit
Episode 4: Cafeteria ChaosEdit
Episode 5: Surround, Pound and Stadium Beating: Part 1Edit
Episode 6: The Crossing GuardEdit
Episode 7: Cold... Stone ColdEdit
Community content is available under
CC-BY-SA
unless otherwise noted.