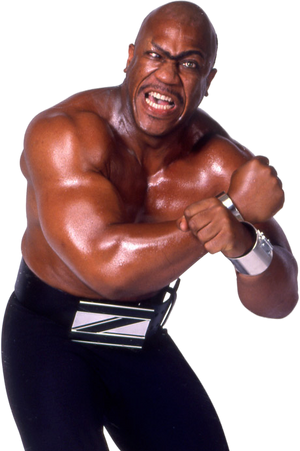 Zeus appeared in the 1989 wrestling movie No Holds Barred, which was financed by the World Wrestling Federation (WWF) and starred Hulk Hogan.
No Holds Barred inspired a feud in the WWF ring during the latter half of 1989. Zeus was billed as "The Human Wrecking Machine", and used the same "unfazable monster heel" gimmick from the movie in his matches – by no selling his opponent's more lethal moves. Zeus also had the notion to yell "Aw Aw" and pound on his chest several times during his interviews and in-ring action, and sometimes would mispronounce wrestler's names, like referring to Brutus "The Barber" Beefcake as "Beefcake Barber".
Eventually, Zeus demanded Hogan face him in the ring. Citing jealousy for being billed under Hogan and anger over losing to Hogan in the movie, Zeus now wanted to beat him in "real life". Zeus formed an alliance with fellow Hogan rival "Macho Man" Randy Savage to feud with Hogan and his friend, Brutus Beefcake. The two teams faced off at the 1989 SummerSlam event in a tag team match which saw Hogan and Beefcake prevail as the victors.
Following SummerSlam, Zeus formed an alliance with "Million Dollar Man" Ted DiBiase leading into the Survivor Series. At the event, the team of The Hulkamaniacs (Hulk Hogan, Jake "The Snake" Roberts, and Demolition) faced The Million Dollar Team (Ted DiBiase, Zeus, and the Powers of Pain). Zeus was eliminated from the match via disqualification after refusing to break a chokehold on Hogan and shoving the referee away. The Hulkamaniacs went on to win the match.
After the Survivor Series, the feud between Hulk Hogan and Brutus Beefcake versus Randy Savage and Zeus ended with a steel cage match on December 27, 1989 at No Holds Barred pay-per-view event. Hogan and Beefcake were once again victorious in what would be Zeus's last match in the WWF, and shortly afterwards he made a brief promotional appearance prior to the Royal Rumble, his last appearance with the WWF.